Second of 2 Parts: Business in Sonora
GUAYMAS, Sonora - What the 16th century Spaniards called "the port of ports" is becoming just that in 21st century Mexico's economy, with ships from around the globe making calls to load and unload their cargo.
From copper concentrate mined and smelted in Arizona and bound for Japan to Sonoran wheat heading to other parts of Asia, the deepwater port on the Sea of Cortez has expanded to handle up to $6 billion a year in commercial shipping.
Arizona Week takes in the sights, sounds and economic data on the port and the tourist and ex-patriot coastal village of nearby San Carlos in the second of a two-part special report on the Sonoran side of the Arizona-Mexico economic "megaregion."
On the program
Edmundo Chávez, director of the Port of Guaymas.

Philippe Petit, owner of Tortuga's Restaurant & Cantina in San Carlos.

Mike Leed, a Tucsonan vacationing on the beach in San Carlos.

Murray and Luz Maria Hager, vacationing from Alberta, Canada.

Juan Cordero, economic & tourism director, Guaymas.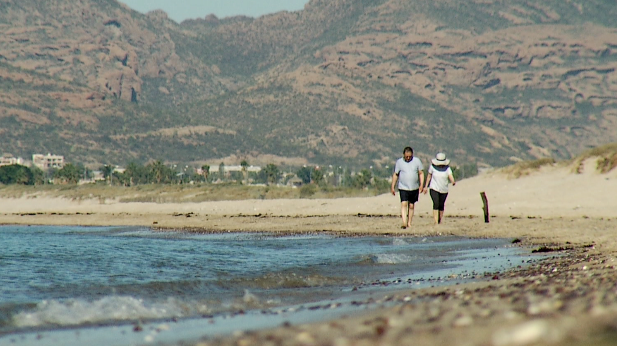 Canadian winter visitors Murray and Luz Maria Hager walk the beach at San Carlos, Sonora.

Steve Riggs, AZPM