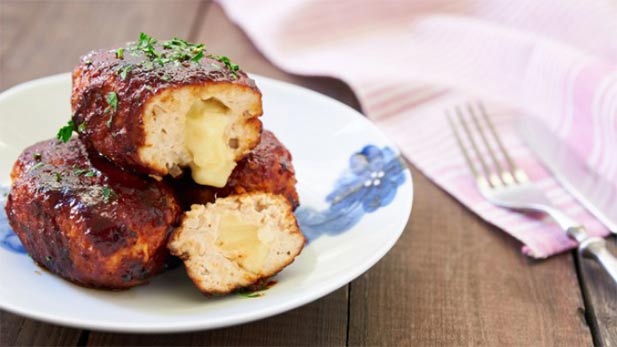 PBS Food: Cheese Stuffed Chicken Meatballs

PBS
"I glazed these meatballs in a tomato teriyaki sauce, but these are also delicious cooked in a marinara sauce for a few minutes after being browned. As for the cheese, anything that melts will work such as Gruyere, Emmentaler, Brie, or Mozzarella." - Marc Matsumoto
Ingredients
For Meatballs
3.5 ounces onion (about 1/2 onion, minced)
1 pound ground chicken
1 egg
3/4 cup panko
1/4 teaspoon salt
1/8 teaspoon white pepper
70 grams cheese (cut into 6 bars)
For sauce
1/4 cup sake
1 tablespoon soy sauce
1 tablespoon honey
1 tablespoon tomato paste
To Fry
2 teaspoons vegetable oil
Yield: Makes 6 large meatballs

Directions
Add the onions to a microwave-safe bowl, and cook the onions in the microwave until they are soft and translucent (about 2 minutes at 800 watts). Let the onions cool enough to touch.


Add the ground chicken, egg, panko, salt and white pepper to the onions and knead the mixture together until evenly combined.


Split the mixture into 6 even clumps.


Take half of one piece in your hand and flatten it out into an oval that's slightly longer than the cheese. Place the cheese in the center and then cover with the other half of chicken. Shape into an egg-shaped ball, making sure there are no air pockets or holes. Repeat with the remaining 5 clumps of chicken mixture.


Make the sauce by combining the sake, soy sauce, honey, and tomato paste in a small bowl.


Heat a frying pan over medium heat and add the oil. Add the chicken meatballs to the pan and gently press on the tops of each meatball with a spatula to ensure they're making good contact with the pan. Fry until golden brown on one side.


Recipe Credit: Marc Matsumoto of Fresh Tastes. For additional tips and photos for this recipe visit PBS FOOD online.