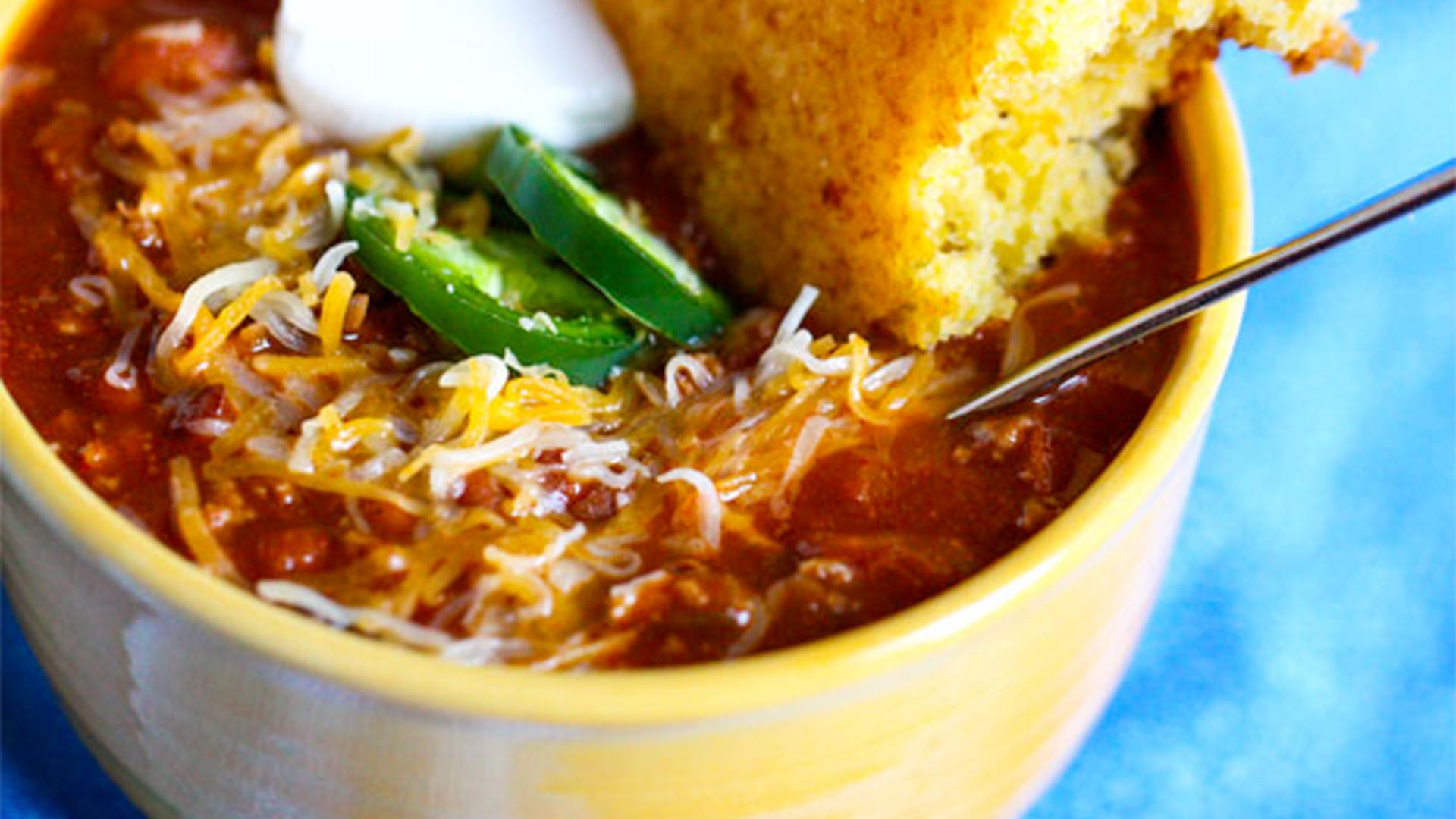 All-American Beef Chili with Beans
PBS Food
Ingredients
3 16-oz cans chili beans (pinto beans in mild sauce)
1 15-oz can tomato sauce
1 10-oz can diced tomatoes with green chilies (Rotel)
10 oz sliced cremini mushrooms
Pinch of salt
1.5 lbs ground beef, 85% lean
1 tbsp canola oil
1 yellow onion, chopped
1 tsp minced garlic
1 bay leaf
½ cup brewed coffee
1 tbsp sugar
1 tbsp chili powder
2 tsp cumin
1 ½ tsp salt
pinch of cayenne pepper
For Serving

sour cream
sliced or pickled jalapenos
grated cheddar cheese
grated cheddar cheese

Yield: 4-6 servings

Directions
Heat the oil in a large, heavy bottomed pot or dutch oven over medium high heat. When hot, add the onions and sauté until translucent --- about five minutes. Add the ground beef and garlic and cook until browned.


When the meat has browned, add the mushrooms and stir well. Cook for five more minutes, until mushrooms become tender. Then, stir in the beans (with sauce), tomato sauce, Rotel and brewed coffee.


Bring chili to a boil then reduce heat and simmer. Add the sugar, bay leaf, chili powder, cumin and salt. Continue simmering on low heat for 45 minutes, stirring often. Adjust seasonings according to your taste preference ---- I added a little cayenne pepper here but you'll want to taste it before going crazy.


Serve chili in big bowls topped with sliced jalapenos, crumbled cornbread, cheddar cheese and dollops of sour cream.


Recipe Credit: Jennea Weber of Fresh Tastes. For additional tips and photos for this recipe visit PBS FOOD online.