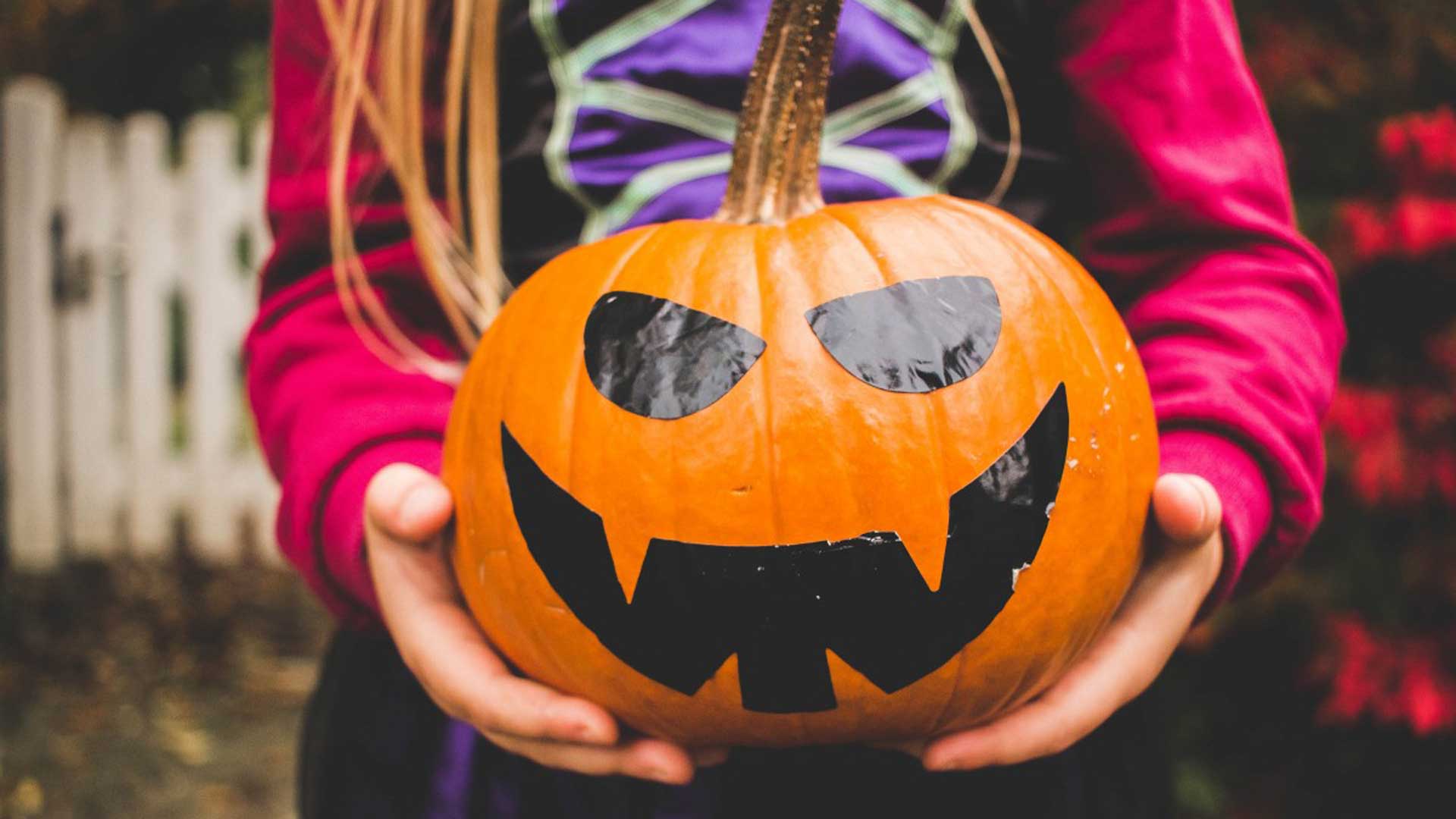 Close-up of a Halloween jack-o-lantern.
pxhere/Creative Commons CC0
Have you ever had this Halloween experience? You're standing on the sidewalk while your child approaches a neighbor's house to trick or treat, and you cringe when your child simply takes candy and walks away from the door, with no cheerful "Trick or treat!" or "Happy Halloween!" or "Thank you!" uttered? I sure have! Halloween can be overwhelming to a child's feelings and senses, and normal behaviors are sometimes forgotten.

Halloween is a time when we participate in activities that we don't regularly do, which can affect children in different ways. We walk children around the neighborhood to speak to adults they may not have ever met, or may not know well or talk to regularly, to collect candy. For shy children or those who struggle to know what to say in new situations, it can be incredibly intimidating. For children who tend to be impulsive, they may want to run from house to house and have a hard time pausing to interact with new people. And If you have a child with a developmental difference such as language delay or autism spectrum disorder, talking to new people (even with a script such as "Happy Halloween!") can be even harder.

During Halloween, kids are given the freedom to explore the dark side of their imagination. They get to try on "bad guy" or spooky personas or celebrate witches, spiders, graveyards and other things their mind might usually keep off-limits. The neighborhood is decorated to look like an otherworldly version of itself, at a time when the weather is changing and nature is going to sleep. It's already a bit much for a child's mind to handle.

When anticipating new, over stimulating, or challenging experiences, like at Halloween, here is the general plan I encourage parents to follow (and use with my own kids):
1. Talk it through beforehand.
It helps a child to know that you understand why a new situation might be tough or over-exciting for them. Talking about it helps build their self-awareness — for example, spooky decorations might make their body feel tense or their heart beat fast, but that they can do something about it. Try watching a Halloween episode of a trusted show to prepare, like Curious George handling his fears and curiosity about No-Noggin!
2. Make a visual plan.
Many kids are visual learners, and drawing a plan in words and pictures helps them understand concepts and sequences of events. Help your child draw a map of the neighborhood, the route you'll take while trick-or-treating, and have your kids give suggestions for what they want to say when going to a neighbor's door.
3. Break it down into easy to remember behaviors.
When you talk and draw out the plan, use consistent, easy to remember words that you can use when coaching your child to remember to say please and thank you. When a child is upset, I use phrases like "hit the pause button" or "take a deep breath and count to four." When children are behaving impulsively, running around too fast to different houses while trick-or-treating, a simple prompt like "tell me your plan" can encourage them to pause, think, and check-in with you first.
4. Right before entering the challenging situation, prep your kids on what you discussed.
This leaves the plan at the "tip of their brain" so that it's easy to access when they are overwhelmed or excited. For example, I might ask, "What were the three parts of our trick-or-treating plan?" (Kids often feel proud when they remember, but they might not!) "1) Say Happy Halloween and Thank You!, 2) Stick with mom, and 3) Hold my hand if you're feeling nervous." It doesn't need to be a reminder every time you're about to walk up to a neighbor's house. This gives your child a chance to independently do it himself!
5. Recognize your children when they do good.
You don't have to go over the top (kids know when we're praising too much, and it becomes less effective!), but a subtle thumbs up or a pat on the back may work.
6. And most important — don't feel embarrassed or guilty when your child just can't access that skill in the moment!
Halloween can be a lot for a kid to handle. Parenting is filled with moments of unexpected successes and defeats, so try to laugh it off and let it inform your plan for the next challenge.
Now what to do about all the candy? Parents differ in their approaches, such as letting kids eat as much as they want or giving out one or two pieces of candy per day. I really like the idea of donating extra Halloween candy to a good cause, such as to deployed soldiers. This creates another opportunity to help children think about others during an exciting time when kids might be a bit preoccupied with their own candy loot.
---
Dr. Radesky is a Developmental-Behavioral Pediatrician and Assistant Professor of Pediatrics at the University of Michigan Medical School. Her research interests include the use of mobile technology by parents and young children and how this relates to child self-regulation and parent-child interaction. Clinically, her work focuses on developmental and behavioral problems in low-income and underserved populations. She was the lead author of the 2016 American Academy of Pediatrics policy statement on digital media use in early childhood. She has two sons who keep her laughing and learning! Follow her on Twitter @jennyradesky.