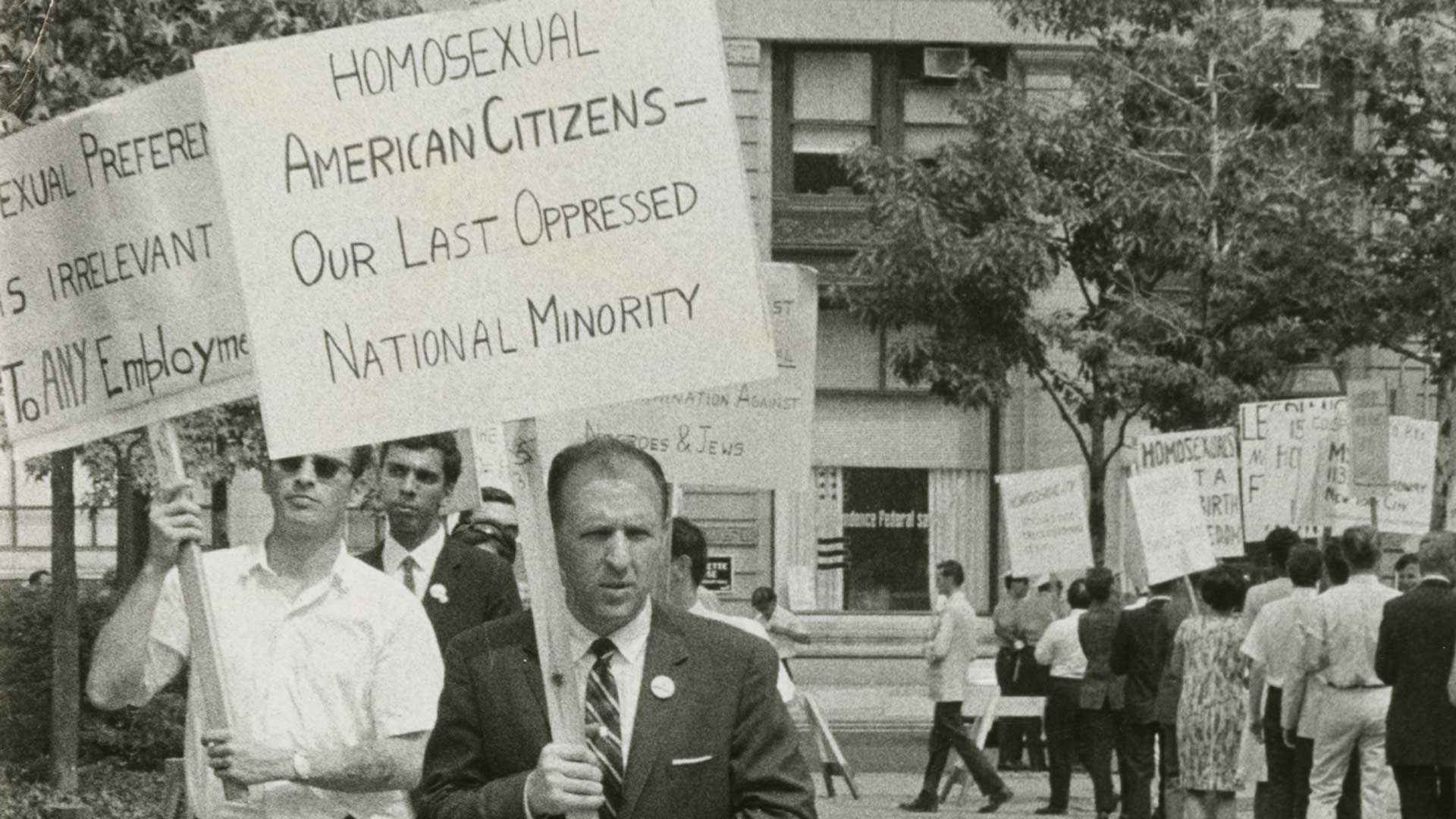 Frank Kameny leads a picket line in front of Independence Hall in Philadelphia on July 4, 1965, four years before the Stonewall uprising. "The Lavender Scare" airs Tuesday, June 18 at 9 p.m. on PBS 6.
Courtesy of The New York Public Library
Pride Month LGBTQ Programming
June 1-30, 2019
RED denotes "new" program.
Full schedules are available online. Schedule is subject to change.
List includes first air only. See schedule for repeats tv.azpm.org.


Masterpiece: Man in an Orange Shirt
(PBS 6 PLUS: Saturday, June 1 at 9pm)
Two love stories, 60 years apart, chart the changes and challenges in gay lives in England-from the era of jail terms to the onset of dating apps. Vanessa Redgrave stars in this drama scripted by best-selling novelist Patrick Gale.

Coming Out: A 50 Year History
(PBS 6 PLUS: Sunday, June 2 at 4pm)
Transgender teen, Jazz Jennings, narrates this one hour documentary exploring the history of public gay identity in the Lesbian, Gay, Bisexual, Transgender (LGBT) community from the 1950s through today.

Independent Lens: Real Boy
(PBS 6 PLUS: Sunday, June 2 at 9pm)
Real Boy is the coming-of-age story of Bennett, a trans teenager with dreams of musical stardom. During the first two years of his gender transition, as Bennett works to repair a strained relationship with his family, he is taken under the wing of his friend and musical hero, celebrated trans folk singer Joe Stevens.

Lorraine Hansberry: American Masters
(PBS 6 PLUS: June 8 at 9pm)
Explore the life and work of the A Raisin in the Sun playwright and activist who played a significant role in the civil rights movement. LaTanya Richardson Jackson narrates. Anika Noni Rose is the voice of Lorraine Hansberry.

Anyone and Everyone
(PBS 6 PLUS: Sunday, June 9 at 10am)
ANYONE AND EVERYONE tells the stories of families from Utah to North Carolina and Wyoming to New York, all connected by a common thread - a gay child. This poignant and often heartbreaking documentary by first-time filmmaker Susan Polis Schutz (also the parent of a gay son) depicts families representing a wide range of religions, nationalities and political leanings.

Denial: The Dad That Tried to Save the World
(PBS 6 PLUS: Sunday, June 9 at 9pm)
Denial falls squarely into a long tradition of documentaries that start by examining one subject before an unexpected twist complicates and enriches the initial investigation. Starting out as an important exploration of energy use and abuse, the film soon takes a sharp turn into the politics of gender identity. The energy debate and transgender issues, two thorny topics that at first glance seem miles apart, are ultimately united by the struggles of one man trying to confront issues that most people would prefer to ignore.

Independent Lens: The Untold Tales of Armistead Maupin
(PBS 6: Monday, June 10 at 11pm)
Meet the frank and funny creator of the groundbreaking Tales of the City and follow his evolution from a conservative son of the Old South to a gay rights pioneer whose work has inspired millions. With Laura Linney, Olympia Dukakis and Ian McKellen.

We'll Meet Again: Coming Out
(PBS 6: Tuesday, June 11 at 8pm)
Join Ann Curry as those whose lives were changed by the early days of the gay rights movement reunite. Tom wants to find the childhood friend who urged him to come out, while Paul seeks a fellow student who inspired him to stand up for his beliefs.

Stonewall: Uprising: American Experience
(PBS 6: Tuesday, June 11 at 9pm)
"Stonewall Uprising" explores the dramatic event that launched a worldwide rights movement. Told by those who took part, from drag queens and street hustlers to police detectives, journalists and a former mayor of New York, and featuring a rich trove of archival footage, this film revisits a time when homosexual acts were illegal throughout America, and homosexuality itself was seen as a form of mental illness. Hunted and often entrapped by undercover police in their hometowns, gays from around the U.S. began fleeing to New York in search of a sanctuary. Hounded there still by an aggressive police force, they found refuge in a Mafia-run gay bar in Greenwich Village, the Stonewall Inn. When police raided Stonewall on June 28, 1969, gay men and women did something they had not done before: they fought back. As the streets of New York erupted into violent protests and street demonstrations, the collective anger announced that the gay rights movement had arrived.

Penny: Champion of The Marginalized
(PBS 6: Thursday, June 13 at 3:30 pm)
PENNY is a multi-dimensional portrait of Penny Cooper, a celebrated criminal defense attorney, art collector, supporter of female artists, and protector of the underdog. Cooper's life brims with stories mirroring the profound changes in our country from the 1940s to the present. In this revealing documentary, Cooper proves herself quite the raconteur with seemingly unlimited anecdotes. Her stories are engaging; sometimes funny, and sometimes distressing. The film is a collection of these moments as told by Cooper and the people who have been impacted by her dynamic spirit. The talented lawyer and art enthusiast offers a unique perspective on important social narratives such as criminal justice, the artists and collectors who generate today's global contemporary art market, gender equality, and more. Through it all, she has found herself at the center of dramatic social progress for women. A role model and pioneer, Cooper perhaps owes much of her success in transcending the glass ceiling to her unwavering resilience, fortitude and infamous humility.

Terrence McNally: American Masters
(PBS 6: Sunday, June 16 at 10:30pm)
Explore four-time Tony-winning playwright Terrence McNally's six groundbreaking decades in theater. The film delves into McNally's pursuit of love and inspiration, LGBTQ activism, triumph over addiction and the power of the arts to transform society.

POV: From This Day Forward
(PBS 6 PLUS: Sunday, June 16 at 9pm)
Meet an American family coping with one of life's most intimate transformations. Sharon Shattuck's father came out as transgender, living as Trisha. Her mother stayed with him. Now Sharon wants to understand how the family survived intact.

Lavender Scare
(PBS 6: Tuesday, June 18 at 9pm)
Learn the untold story of how tens of thousands of homosexual federal workers were either fired or denied employment in the 1950s, stirring outrage in the gay community and starting an LGBTQ rights movement with an unlikely hero at the forefront.

Great Performances: Indecent
(PBS 6 PLUS: Saturday, June 22 at 9pm)
See Paula Vogel's Tony Award winner inspired by the true story of the controversial 1923 Broadway debut of Sholem Asch's God of Vengeance. The play with music looks at an explosive moment in theatrical history.

To Be More Perfect Union
(PBS 6 PLUS: Sunday, June 23 at 10am)
A documentary that tells a story of love, marriage and a fight for equality. The film chronicles unlikely heroes -- octogenarian Edie Windsor and her attorney, Roberta Kaplan, on their quest for justice: Edie had been forced to pay a huge estate tax bill upon the death of her spouse because the federal government denied federal benefits to same-sex couples - and Edie's spouse was a woman. Deeply offended by this lack of recognition of her more than forty-year relationship with the love of her life, Edie decided to sue the United States government - and won. Windsor and Kaplan's legal and personal journeys are told in their own words, and through interviews with others of the legal team, movement activists, legal analysts, well-known supporters and opponents.

POV: The Gospel of Eureka
(PBS 6: Monday, June 24 at 11pm)
The spotlight is beaming on drag shows and a passion play in an Arkansas town. With verve, humor and unfailing compassion, The Gospel of Eureka builds unexpected bridges between religious faith and sexual orientation.

The Day It Snowed In Miami
(PBS 6 PLUS: Saturday, June 29 at 9pm)
THE DAY IT SNOWED IN MIAMI traces the political activism behind an equal-rights statute in Miami, and how it galvanized the gay rights movement in Florida and beyond. Thirty five years ago, as snowflakes prepared to dust palm trees in a city known for its warmth, Miami-Dade County lawmakers unknowingly debated an issue that would ignite a political maelstrom. The seemingly benign ordinance - essentially an addendum to the county's existing anti-discrimination legislation - sought to prohibit discrimination in housing, public accommodations or employment based on the basis of "affectional or sexual preference." On Jan. 18, 1977, a throng of conservatives led by singer and Florida Orange Juice spokeswoman Anita Bryant packed downtown commission chambers in protest. The commissioners ultimately passed the ordinance by a narrow 5-3 margin, but Bryant vowed to lead a repeal - and succeeded. The ordinance set back the gay-rights movement for decades; it took more than 20 years for Miami-Dade to revive and pass the law. The 90-minute documentary also chronicles the tragic effects of the AIDS pandemic in South Florida, and the ironic, compassionate turn in public opinion towards the gay community.

The Committee
(PBS 6 PLUS: Saturday, June 29 at 10:30pm)
The Committee is a documentary film about the little-known Florida Legislative Investigative Committee of the State Legislature from 1956-1965. Florida Senator Charley Johns chaired the committee, and its aim was to root out communist and homosexual teachers and students from state universities. It was successful in either firing or expelling more than 200 suspected gay and lesbian citizens. The film features two North Florida survivors (Rev. Ruth Jensen-Forbell and Chuck Woods) and one interrogator (John Tileston) who have never before spoken publicly about their experiences without anonymity. It culminates in a 50-year reunion between survivor and interrogator.