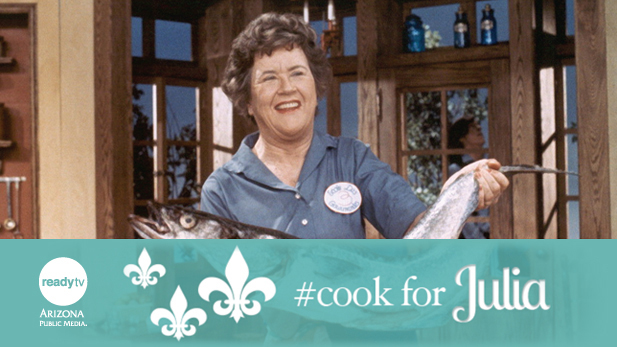 Celebrate Julia Child's 100th Birthday!




PBS and Ready TV will honor Child's legacy, on what would have been her 100th birthday, with special programming and local culinary delights brought to you by some of Tucson's finest chefs.

Julia will be the Chef of the Month for August on Ready TV, with mini-marathons every Sunday. On her birthday, August 15, enjoy rare French Chef episodes starting at 5 p.m. followed by Julia Childs Bon Appetit! On PBS 6 we'll celebrate Julia on August 22nd with an encore performance of French Chef episodes starting at 1 p.m. and Bon Appetit! again at 2 p.m.

Bon Appetit! will include a special opportunity to participate in a "Cook for Julia" demonstration by local chef Donna Nordin.

"You can just imagine how excited I was to be asked to assist Julia Child in November 1981. She was doing five demonstration classes at Le Cordon Rouge, a cooking school then located in San Rafael, California. I was delighted to be asked because I had always looked up to Julia and now I literally had the chance to look up at her.
She was very tall!!"
-Donna Nordin

Arizona Spotlight features an interview with Donna Nordin and an essay of her recollections of time spent with Julia Child.


Ready TV is the place to discover cooking secrets, experience the beauty of different landscapes and cultures, revamp your house, and bring imaginative, artistic and creative worlds to your home. Ready TV is available at broadcast 6.3, Cox 82 or Comcast 201.


Think You Know Everything About Julia Child?

Explore Julia's Legacy: Top Chefs & Bloggers Pay Tribute

Watch Exclusive Full Episodes, Clips, Extras & More

Find Your Julia Child Recipe: Cookbooks, Websites & More

And join local chefs as they celebrate Julia's legacy:

Doug Levy -
Feast
Rotating French dishes from Aug. 15 through the end of the month.
Chris Singleton-
Augustin Brasserie
Chris Singleton from Agustin will be serving Filet of Sol with Crab Newberg and Harit coverts for dinner only, starting on Wed. Aug. 15 through the month of August. Chris said he watched Julia as a child and was inspired by her and her show. He feels particularly inspired by her at this stage in his life as he is the executive chef of a French restaurant. Agustin is excited to be part of this to honor and pay tribute to Julia.
Renee Kreager - Renees Organic Oven
From chef/owner Renee Kreager Jukies 12'' Supremes De Volaille Aux Champignons Pizza ~ Goat cheese and shallot spread topped with a mushroom cream sauce and moist chicken breasts on our very own organic dough.
Paired with a Pouilly Fumé
August 15th
Reservations: 886-0484
Albert Hall -
Acacia
Albert Hall will prepare Julia's recipe for chicken with 40 cloves of garlic. He actually met her at her home in Montecito.
Pastiche Modern Eatery
Julia Child Inspired Dish on Wed. August 15th
Reservations: 325-3333