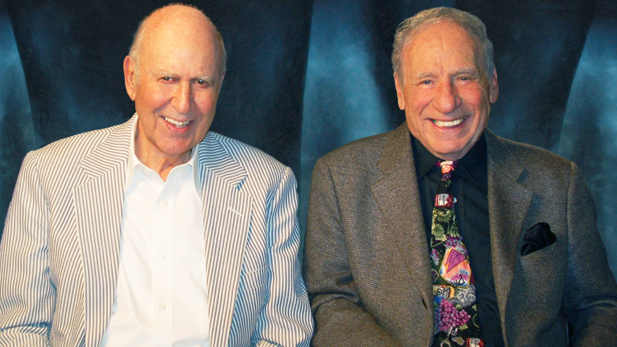 Carl Reiner and Mel Brooks
In the 2000 Year Old Man sketches, comedy legend Mel Brooks plays the oldest man in the world, interviewed by fellow comedy legend Carl Reiner. It's a classic comedy routine that began as a way for the two best friends to entertain friends at dinner parties, where Brooks would ad lib answers to questions on everything from the creation of fire to Paul Revere's midnight ride, the discovery of women ("it was Bernie who discovered the female") to the perfection of a nectarine, riffing on historical figures ("Marie Antoinette? What a cutie!"), marriage, popular culture – anything straight man Reiner threw his way.
Excavating the 2000 Year Old Man highlights some of the best performances of Brooks and Reiner's often improvised exchanges as originally seen live on The New Steve Allen Show, The Andy Williams Show, The Ed Sullivan Show, The Timex All-Star Comedy Hour, and in a 1975 cartoon special, but also digs deeper into this classic comedic cornerstone as a single source of inspiration for some of today's biggest names in comedy, a primer on how to do comedy, and one of the specific roots of Jewish humor's impact on American culture.
Comedians Bob Newhart, Paul Reiser, Garry Shandling and Richard Lewis; Leonard Stern, executive producer of Brooks' television creation Get Smart; and Rabbi David Wolpe of Sinai Temple in Los Angeles, as well as Brooks and Reiner themselves, celebrate the magical chemistry of the Grammy Award-winning comedic interactions of these two men and what it has meant to the larger culture.