In the first opera in the Ring cycle, the gods of Valhalla clash with underworld dwarves and brawny giants, with disastrous consequences.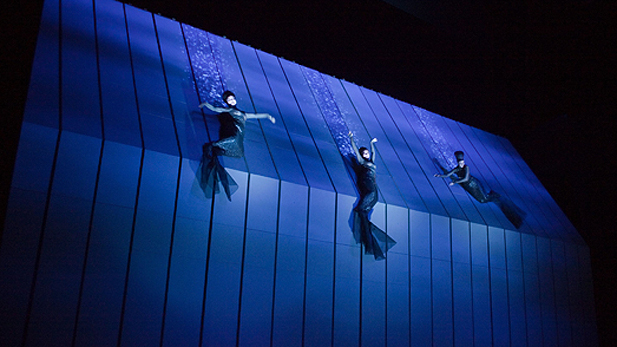 The Rheinmaidens (Jennifer Johnson, Lisette Oropesa, and Tamara Mumford) in a scene from Robert Lepage's production of Wagner's "Das Rheingold". (PHOTO: PBS)
The evil Alberich steals gold from the Rhine and uses it to forge a ring of unimaginable power. Wotan, the king of the gods, uses magic to steal the ring, but Alberich places a curse that guarantees misery for whoever wears it. Wotan's unwillingness to part with the ring leads him to break a contract with the giants who have built the gods' new castle in the sky, setting in motion a chain of events that will end in his own destruction.
James Levine conducts, with Wendy Bryn Harmer (Freia), Stephanie Blythe (Fricka), Patricia Bardon (Erda), Richard Croft (Loge), Gerhard Siegel (Mime), Bryn Terfel (Wotan), Eric Owens (Alberich), Franz-Josef Selig (Fasolt) and Hans-Peter König (Fafner).
Great Performances at the Met: Wagner's Ring Cycle
All performances start at noon on PBS 6.
Sunday, Sept. 23 — Das Rheingold, conducted by James Levine
Sunday, Sept. 30 — Die Walküre, conducted by James
Levine Sunday, Oct. 7 — Siegfried, conducted by Fabio Luisi
Sunday, Oct. 14th — Götterdämmerun, conducted by Fabio Luisi


Watch Wagner's Ring Cycle Preview on PBS. See more from Great Performances.