For much of the 20th century, Carl Sandburg was synonymous with the American experience, a spokesman on behalf of "the people." Using his unique life — from impoverished beginnings on the Illinois prairie to the halls of Congress to "The Ed Sullivan Show" — as the basis for free-verse poetry, Sandburg became one of the most successful writers in the English language: a three-time Pulitzer Prize-winner, biographer (most notably of Abraham Lincoln), children's storyteller, novelist and captivating performer.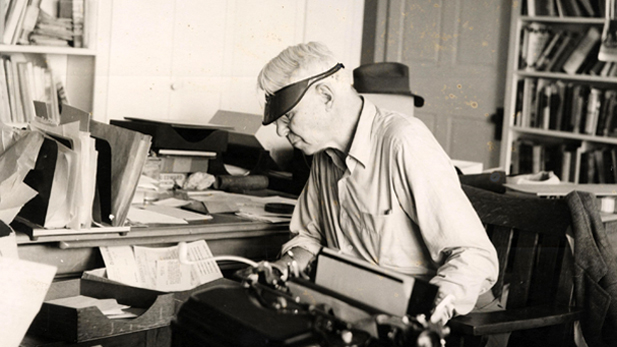 Carl Sandburg with his typewriter at Connemara in Flat Rock, NC. (PHOTO: PBS)
Yet, after his death in 1967, his literary legacy faded and his poems, once taught in schools across America, were dismissed under the weight of massive critical attack. AMERICAN MASTERS provides a dynamic examination into the life, work and controversy surrounding Sandburg, exposing his radical politics and anarchist writing during WWI as well as the burgeoning resurgence of interest in him and his contributions.
AMERICAN MASTERS: The Day Carl Sandburg Died]((http://www.pbs.org/wnet/americanmasters/episodes/carl-sandburg/homepage-the-day-carl-sandburg-died/2267/), Monday at 10 p.m. on PBS 6.