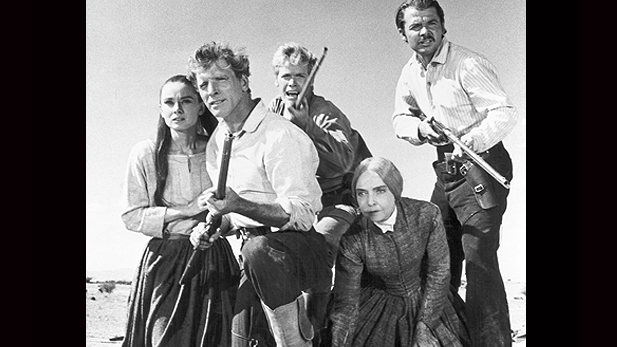 (PHOTO: MGM)
The Zachary's are a successful and respected Texas frontier family. The father, Will Zachary, was killed by Kiowa Indians, leaving the mother Mattilda (Lillian Gish) and oldest son Ben (Burt Lancaster) in charge of the family. Ben has two brothers, Cash (Audie Murphy) and Andy (Doug McClure), as well as an adopted sister Rachel (Audry Hepburn).
As the area ranchers are gathering to prepare for a cattle drive, a mysterious stranger appears with claims that Rachel Zachary is a Kiowa Indian. He tells a story about how he and Will Zachary were fighting a retaliatory raid on the Kiowa when they came upon a baby. Will, weary of all the killing, saved the baby and kept it as his own.
Mattilda confirms the story to the family. The Zachary family is shunned by the ranching families, and hunted by the Kiowa who want the woman returned to the tribe.
Hollywood at Home: The Unforgiven, Saturday at 9 p.m. on PBS 6.