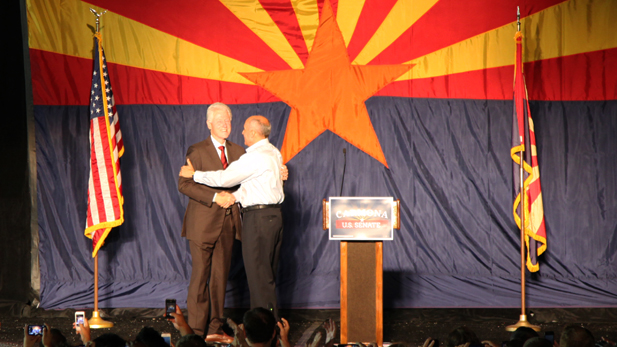 Former U.S. President Bill Clinton campaigns for Richard Carmona, the Democratic candidate for Arizona's open U.S. Senate seat in 2012. The campaign stop at Arizona State University Oct. 10 marked the biggest-name candidate to stump for an Arizona candidate so far this year.

Christopher Conover
Former President Bill Clinton went to ASU Wednesday night to encourage Democrats to vote.
Thousands of people gathered at ASU for a get out the vote rally on the night before early ballots go in the mail. Democrat and U.S. Senate candidate Richard Carmona told the crowd it is time to end the vitriol in politics.
The star of the night, however, was former President Bill Clinton. In a ranging speech that lasted nearly 30 minutes the former president touched on many of the same themes as his speech at the Democratic National Convention. He also rallied the Democratic faithful for Carmona.
"If you want to be better off when you quit than when you started, if you want young people to have a brighter future, if you want America to come together and not be torn apart, you can do something about it. You can send Rich Carmona to the United States Senate."
Clinton is the biggest name politician to publicly appear on the campaign stump in the race for Arizona's open seat in the U.S. Senate. U.S. Sen. Marco Rubio, R-Fla., campaigned in Tucson last week for Republican candidate Jeff Flake, but that event was not open to the public.
Carmona and Flake will appear Monday on Arizona Public Media for a one hour forum.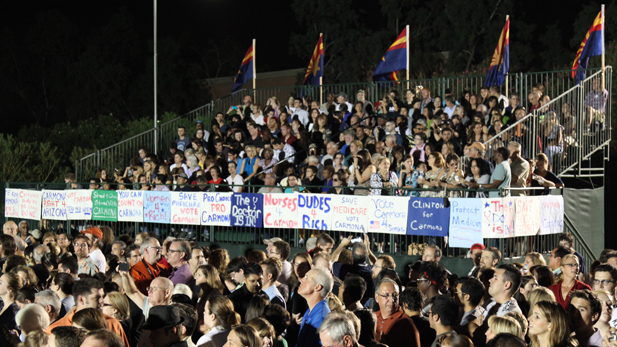 A crowd of supporters gather at Arizona State University Oct. 10 to hear former U.S. President Bill Clinton campaign on behalf of fellow Democrat and U.S. Senate candidate Richard Carmona.

Christopher Conover