(VIDEO: AZPM)
Supporters and opponents of Proposition 204 faced off over the initiative at a public forum Wednesday at the Arizona State Schools for the Deaf and the Blind.
Proposition 204, known as the Quality Education and Jobs Initiative, asks voters to permanently extend a one-cent sales tax that voters overwhelmingly approved in 2010 after Gov. Jan Brewer said the state's education system needed the revenues from three years of that tax. The temporary tax is set to expire in May.
Read Proposition 204 here

View at Google Docs

|

Download File
Supporters of Proposition 204 want to prevent that expiration, saying the tax has generated about $1 billion a year and Arizona schools need that to continue. Opponents say the permanent tax puts unnecessary restrictions on the Legislature.
Arizona State Treasurer Doug Ducey represented No On 204 at the forum, and Ann-Eve Pedersen, chair of the Quality Education and Jobs Initiative appeared in support.
"Prop. 204 was conceived by parents out of deep concern for the cuts that occurred, the lack of commitment and the need for our state to have a permanent dedicated source of funding in Arizona," Pedersen said.
Arizona has had deeper cuts to education than any other state, Pedersen, said. She cited a 21.8 percent reduction in state funding for education at all levels -- K-12, community college and universities -- in the last five years.
"That is not a good statistic at all if you want to recruit good businesses to Arizona," she said.
A report issued last month by the Arizona Joint Legislative Budget Committee on K-12 funding showed that state funding per student fell 18.9 percent, from $3,776 in 2007-08 to $3,062, in the current fiscal year, when adjusted for inflation.
Read the state legislative report on K-12 funding here

View at Google Docs

|

Download File
About 80 percent of the funds collected from the one-cent sales tax extension would go to K-12 education, community colleges, GED programs and universities, Pedersen said.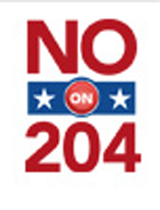 Photo from campaign's website
Ducey told the audience that money from Proposition 204 will not reach the teachers and students who need it.
"It is mandated that $100 million annually goes to road contractors," he said.
The money for road contractors, Pedersen said, is necessary to improve the state's economy.
Ducey told attendees that Proposition 204 would limit legislators when it comes to balancing the budget.
"Say what you will about the Legislature," Ducey said. "At least they stand accountable to you and me every two years."
He added that the education system is damaged and administrators sometimes mismanage the funds given to their school districts.
Pedersen told the crowd that Proposition 204 money will go directly to the classrooms.
"If we could trust the Legislature like Mr. Ducey wants us to do, I can guarantee you, we would not be here today," Pedersen said. "We have lost confidence in them."
Proposition 204 sets a limit for how much lawmakers can cut in public education, she said. The initiative also says the penny-on-the-dollar funds will help train teachers on the upcoming changes to state education standards called the Common Core, Pedersen said.
This fiscal year, the state has a surplus of nearly $900 million, with $450 million of it having gone into a rainy-day fund.
Ducey said there is enough cash on hand for legislators to decide how much should be spent on schools. But Pedersen said that is not a guarantee that money will be allocated to education and that further cuts will be avoided.
Ducey and Pedersen also faced off for Friday evening's Arizona Week telecast. The program can be seen above, and the full version of their video forum can be seen here:
Ann-Eve Pedersen, Chair for Quality Education and Jobs and Doug Ducey, Chair for No On 204, have an open forum on Prop 204. (VIDEO: AZPM)