The latest installment in the BLUEPRINT AMERICA initiative takes viewers on a cinematic journey in search of America's transportation future. With Detroit, Michigan, as home base, the film hop-scotches across the globe in an effort to look at what's possible.
The documentary shows how investments in the past — beginning with the construction of canals in the 18th century — profoundly shaped Detroit's physical layout, population growth and economic development. Before it was dubbed the Motor City, Detroit was home to the nation's most extensive streetcar system.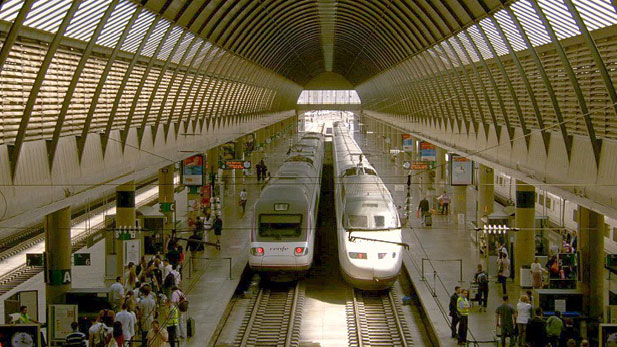 In Madrid, passengers wait to board a high-speed train
It was the cars made in Detroit that would soon displace the streetcars in Detroit — and in every major American city. Blueprint American explains how the auto industry, which created the transportation system that is now fraught with so many problems, is also the industry that puts Detroit in perhaps the best position to transform itself for the transportation of the future. Current and former auto industry executives explain how defunct auto manufacturing plants are being retooled to build the renewable energy components that will be the building blocks of the new transportation system.
Over the last 30 years, much of the world has moved on, choosing faster, cleaner, more modern transportation and leaving America behind. Viewers are taken on a journey beyond Detroit's blighted urban landscape to Spain, home to one of the world's most modern and extensive transit systems; to California, where voters recently said yes to America's first high-speed rail system; and to Washington, where Congress will decide whether to finally push America's transportation into the 21st century.