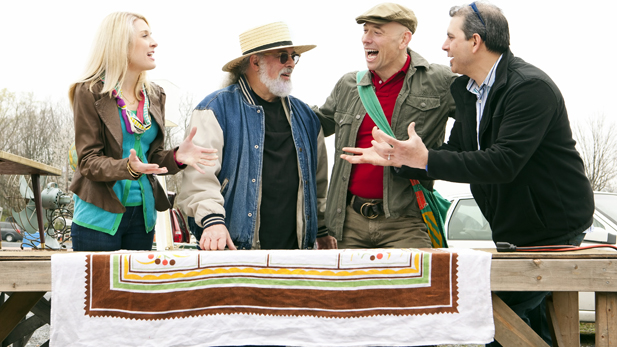 The Antique Pickers Miller Gaffney, John Bruno, Bob Richter and Kevin Bruneau. (PHOTO: PBS)
This week on MARKET WARRIORS, pickers Miller, John, Bob and Kevin are off to the races at the Burlington Antique Show in Burlington, Kentucky, where they visit a well-known gem of a market. The pickers are challenged with discovering unique lighting among the 200 vendors. A pair of mid-century lamps invites some conversation. Off-screen host Mark L. Walberg points out notable picks that include a Marilyn Monroe thermometer, a pair of mid-century modern chairs and a chrome headboard. Their finds are auctioned at A.N. Abell Auction Company in Los Angeles.
Market Warriors, Monday at 9 p.m. on PBS 6.