(VIDEO: AZPM)
The federal government has a priority in ending veterans' homelessness. And, several agencies in Tucson are working on the local end of that goal.
Last week, the Department of Veteran's Affairs announced it will pump $300 million into ending veterans' homelessness. Of that, more than $2 million will come to agencies in southern Arizona.
The issue has gained national importance because veterans are more likely to be homeless than other Americans. They make up less than 8 percent of the population, but represent 16 percent of homeless adults, according to the federal government.
"It is absolutely unacceptable that any veteran should be homeless, that any veteran should be without a job if they're able to work, that any veteran (who) has a substance abuse or mental health disorder should not get the treatment ... they deserve," said Rep. Ron Barber in May.
The Arizona representative is sponsoring and supporting several bills, aiming to boost support services for veterans. They are designed to address issues faced by returning veterans of the Iraq and Afghanistan wars. Barber also said he consults his Veteran's Advisory Council on all issues pertaining to veterans.
Barber said with nearly 85,000 vets in his congressional district, those from the Vietnam era face a unique set of challenges.
"I think (people) in my age group ... remember the last time we had a large group of veterans coming home," Barber said. " ... they were coming home from Vietnam. It's not a very good part of our history, quite frankly, the way they were treated when they got home."
This led to long-term problems, including homelessness.
"Many (Vietnam vets) are part of the homeless population in our country," Barber said. "One of the largest percentages of the homeless population are veterans from that era."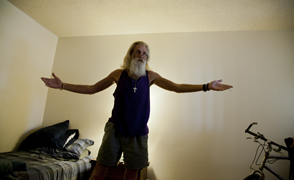 Gus Hasdorff lll has been homeless for most of the past 30 years.

Mitchell Riley
Gus Hasdorff lll joined the Marines when he was 17.
"It was Aug. 7, 1972 ... my first day of service," he remembered. "I got on a plane in San Antonio, Texas, flew to Los Angeles and rode a bus to San Diego."
After Marine Corps boot camp in San Diego and infantry school at Camp Pendleton, Hasdorff was sent to Nam Phong, Thailand. He was assigned to a U.S. Marine Air Base and Royal Thai Air Force joint operation.
"At the time they were bombing Laos, Cambodia and North Vietnam," Hasdorff said.
Hasdorff turned 18 in Nam Phuong. He returned from the Vietnam War with a heroin addiction, he said, and entered a treatment program at the Naval Air Station in Miramar, Calif.
For a number of reasons, Hasdorff has been homeless for most of the past 30 years. Then, he met Sarah Taouil, project coordinator for 51 Homes, a local nonprofit, seeking to house the most medically vulnerable people experiencing homelessness.
"Gus was living out in a wash on the northwest side of town," Taouil said. "Our outreach workers knew him because he had lived there for so long."
The mission of 51 Homes is to provide housing first and then other support services, such as mental health and substance abuse treatment.
Traditional models take the opposite approach by having people meet certain prerequisite criteria before qualifying for housing assistance, Taouil said.
"Once we put people into housing, they don't need or want to use substances any more, or they're ready to begin addressing these behavioral health concerns," Taouil said. "They can go to the doctor ... make appointments ... follow-up with prescriptions and take medication. They're ready and able to satisfy whatever their treatment needs are."
Over the years, outreach workers made repeated contact with Hasdorff in an effort to help him with housing.
"Gus had recently experienced a heart attack," Taouil said. "It was summer, the monsoons were coming, and I think he finally decided 'I can't do this anymore.' ... I think of him lying outside, having just had a heart attack, and having to pull himself to the neighboring camp to make a phone call."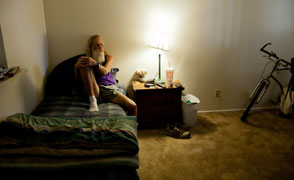 AZPM Staff
A subsequent attempt by 51 Homes outreach workers finally paid off in July 2012.
When the nonprofit first emerged, the U.S. Department of Veterans Affairs offered assistance. It funded housing for chronically homeless veterans through Veteran's Assisted Supportive Housing, or VASH Vouchers.

To this day, HUD VASH Vouchers help house veterans.
Taouil is the former program coordinator for Comin' Home, which is part of CODAC Behavioral Health Services.

Comin' Home is a transitional program, offering "bridge housing" for homeless vets who are transitioning into a permanent home.
Hasdorff is one of the homeless vets who has benefited from that service, Taouil said.
"He came into to Comin' Home for 'bridge housing' while he was picking out an apartment and preparing for the VASH procedure," Taouil said.
The service helped Hasdorff with his transition from homelessness into being able to live in an apartment.
"I had three weeks of living indoors," Hasdorff said. " ... getting used to sleeping in an actual bed ... having a stove and cooking. It was good. It was like a great weight lifted off of my shoulders, not having to worry."

Now, Hasdorff lives in a studio apartment in north central Tucson.
"My apartment is four or five times bigger than any tent I've ever been in or lived in," he said.
In his apartment, Hasdorff has a stereo, a TV, a refrigerator, a coffee maker, kitchen appliances, air conditioning, a bathroom, a bed and the makings of a little library in his closet.
Beyond these comforts, his new home has allowed him to focus more in his health and well-being.
Hasdorff had quit his medications because he couldn't afford them.
"Now, I've hooked up with the VA, and got my meds back," he said. "I'm (also) eating a little bit more, and have gained (some) weight."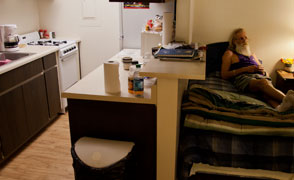 AZPM Staff
Hasdorff remembers what it was like living in the desert.
"You gotta find toilet paper ... get food, haul water, find firewood, find a safe place to camp," he said." ... and the thing that I hated the most was the wind. If you can get out of the wind you're OK. Now I'm out of the wind - the wind, the cold, the rain."
The transition from being homeless for so many years to now living in his own apartment came with certain anxiety.
"It feels great, but ... it's hard to get used to (after) you've lived outside for...years," Hasdorff said.
Taouil has observed Hasdorff's adjustment to his new life.
"Whenever I speak to Gus, he's thankful," Taouil said. "I mean, I think he still has challenges...transition is hard for folks who have been (homeless) for decades. So, I think he feels like his four walls are a blessing but maybe (also confining).
Hasdorff misses the nature that was part of his everyday surroundings.
"You get up in the morning...watch the sun come up," Hasdorff said. "(Then), you watch it track across the sky, and each day you see the sun slowly go to the north...watch the leaves turn (colors)...it's neat...you get to see the wildlife and that's all cool. But, this is so much better, trust me."
There's a two-fold argument for supporting efforts to house homeless veterans, and others living without homes in southern Arizona, Taouil said.
"I believe that all humans have the right to have housing," she said. "It's...a basic human right...It's not a privilege, just a right."
There is also a financial reason to support programs to reduce homelessness, Taouil said.
"It costs more for a person to be homeless in a community," she said. "(It costs) more for law enforcement ... for emergency medical services ... emergency shelters. It costs less to house somebody in a one-bedroom apartment."
Now that Hasdorff is able to tend to his physical and mental health needs, Taouil said he can move beyond issues of basic survival.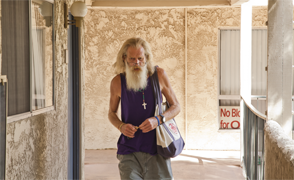 Mitchell Riley
"Gus is not going to die in a wash, unknown on the edge of the desert," Taouil said. "I mean, that's just huge. He has neighbors and friends, people who know him and are looking out for him. He can live with dignity, he's not a nameless person (anymore)."
Taouil hopes Hasdorff "gets to live in a home for the rest of his life, and not think of himself as a person who was homeless, and that he's just a Tucsonan like the rest of us."
Next month, it will be one year since Hasdorff left his old life and started this new one.
Hasdorff is grateful for those who persisted in bringing him home, he said, and he reflects on those who are still out there.

Listen to an extended audio version of this story as aired on Arizona Spotlight:

This story is part of Arizona Public Media's week-long series on poverty.