Listen:
Every Wednesday at 7 a.m., Patagonia's local java joint, Gathering Grounds, becomes an open meeting room for the Borderlands Restoration group.
Topics discussed over hot coffee and breakfast include native grasses and the local sparrow population.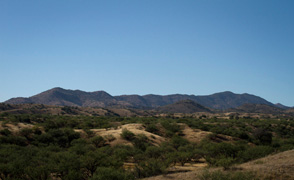 The landscape is seen from a ridge on Kate Tirion's Patagonia property, Deep Dirt Farm.

Mariana Dale
"What we're hoping is that, 50 years from now, this meeting will still be going on," said Ron Pulliam founder of Borderlands Restoration. "People will be talking about 'Do you realize there used to be a time when our creeks didn't run here and we still had no forest along the riparian corridor and the wildlife wasn't back.'"
Pulliam founded the group in an effort to reconnect the community to the environment, while completing projects that would help restore water flow, vegetation and wildlife populations to the area.
"We're working essentially all over southeastern Arizona, bringing back streams, bringing back forests, re-vegetating area and doing a lot of scientific work as well," Pulliam said.

Pulliam retired from teaching at the University of Georgia's Odum School of Ecology and moved to Patagonia. He had worked in Arizona in the 1970s.
"A lot of what I saw was very discouraging," Pulliam said of his return. "I saw places where I knew that streams and rivers had been flowing that were dry. I saw what were riparian forests that were skeletons of trees that had died."
The group makes a little money from events, such as plant sales, with most of what it earns going back into the organization. Borderlands Restoration has earned grants from the Bureau of Land Management and the National Fish and Wildlife Foundation in addition to other donors.
Patagonia and its surrounding area are part of the Sky Islands. The region bridges the gap between the tropical environment in central Mexico, and the more temperate regions in the north. The range in elevation and climate makes it one the most biologically diverse areas in the country.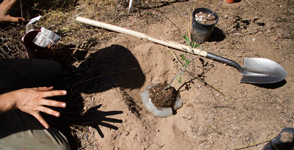 Caleb Weaver demonstrates how to situate a native plant. Borderlands Restoration introduced more than 2,600 plants to the Patagonia area in the last year.

Mariana Dale
"We have these oasis environments where we have intermittent or even perennial rivers like the San Pedro," said Gregg Garfin, an assistant professor in the UA's Institute of the Environment. "That also adds to biodiversity. It allows us to live and thrive in the region."
Garfin and his colleagues recently published a study of climate change in the Southwest. They estimate temperatures could rise at least 5 degrees by midcentury. Less certain, but still possible, are decreased precipitation and more violent storms. Riparian areas are sensitive to both climate changes and human impact.

"The headache for people who are trying to manage these riparian areas is that in some ways it doesn't matter whether it's drought our other groundwater pumping," Garfin said. "It's the combination of those things that is making the environment less sustainable."
One spot for several restoration projects is Kate Tirion's sprawling Patagonia property, Deep Dirt Farm. Bone Creek, which is named for the cattle remains there, is one of several intermittent waterways.
"The soils here are like butter with a hand saw," Tirion said. "In this kind of landscape it doesn't take much to undo them." She is a permaculturist, who practices sustainable environmental design.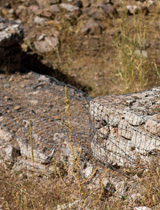 A water restoration structure at the Deep Dirt Institute in Patagonia, Ariz. (PHOTO: Mariana Dale)
In some places, the steep sides of the creek have crumbled, and left the twisted roots of grasses and trees exposed. Borderlands Restoration has installed several erosion structures like gabions and berms. They're often made of rock chunks enclosed by a wire frame.
"The idea is to slow the flows down and to stabilize the stream bed," Tirion said. "We're working on lifting up the stream bed over time and just letting the water itself do the work."
Even with the new installations, one creek ran dry for the first time in more than eight years.
Restoring the Base of the Food Chain
Earlier this year, Patagonia dubbed itself the pollinator diversity capital of the U.S.
"That basically means we have more bees and butterflies nectar feeding bats and so on and so forth than any area studied yet in the United States," said Caleb Weaver, a member of Borderlands Restoration.
Weaver moved to Patagonia and joined the group after graduating from the UA where he studied geology and ecology.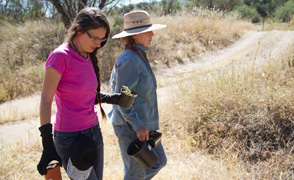 Sarah Hines, left, and Kate Tirion, right, carry several native plants to introduce alongside a dry creek bed in Patagonia, Ariz. The hope is to attract pollinators, such as butterflies, bees and bats back to the area.

Mariana Dale
Southern Arizona claims up to 600 species of native bees and 300 types of butterflies and moths in addition to migrating populations, according to members of the group.
Some of these populations have been on the decline. Borderlands Restoration hopes if it provides more food sources in the form of native plants, the pollinators will return.
"As they are migrating through, they don't have a cooler full of beer," Weaver said. "They have to stop and have some places to eat. We're trying to create a patchwork of places where they can do that."
In October, the group held its final planting of the year. Horsetail milkweed, a monarch butterfly favorite, and Indian blanket flower, with large yellow and red blooms that attract bees, were planted near a dry creek bed.
Weaver said they introduced more than 2,600 plants in the last year, all grown from seed. Each plant is tagged and monitored for growth and flowering, and whether it attracts wildlife. The small staff relies on volunteers from the community to accomplish much of the work.
First time volunteer Sarah Hines recently moved to Patagonia and helped with the re-planting effort.
"I'm very impressed with how many people are connected to the plants," Hines said. "I am most of all impressed with level of concern about preservation, but with a lack of anger, with a real focus on trying to make things better."
It's been about a month since the group's last planting. Ravenous grasshoppers devoured most of the leaves, but the hope is that tough roots will be able to push up new growth in the spring.