(VIDEO: AZPM)
After about four years of preparation, the bighorn sheep translocation project began to solidify when 31 sheep were released in the Pusch Ridge wilderness of the Santa Catalina Mountains outside of Tucson in November.
Enthusiasts and local media gathered to watch the animals re-enter an old habitat. But three months after the release, controversy has flared over the project and among those involved.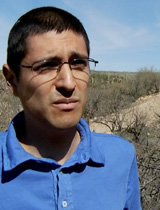 Ben Pachano, member of Friends of Wild Animals. (PHOTO: AZPM Staff)
As of this week, 10 bighorns have died, most confirmed as having fallen prey to mountain lions or bobcats.
About two weeks after the release, when news came of the first deaths, the Arizona Game and Fish Department killed two mountain lions in the area, hopping to ease the sheep's relocation, igniting a lot of emotion among the project's opposing groups.
Then, this week, following word that a 10th sheep had died, news arose of two healthy, one-month-old bighorn lambs as new members of the herd.
Friday's broadcast of Arizona Week showed supporters and opponents of the translocation project sharing their feelings, and why it's good or bad that it happened.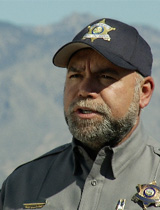 Raul Vega, Region 5 supervisor at Arizona Game and Fish Department. (PHOTO: AZPM Staff)
A lot of Tucsonans have opposed the release, especially since the mountain lion killings. Many groups, such as Tucson's Friends of Wild Animals, say Game and Fish has not been upfront about the need to bring bighorns back, with some saying hunting interests are behind the move.
"They have simply said that they want to reintroduce the herd, but they have not explained why that's important," said Ben Pachano, a member of Friends of Wild Animals. "They haven't addressed whether there is a hunting motivation behind that. They are going to such extreme measures for this program, and we don't know why."
He said Game and Fish views hunters and ranchers as their prime "constituency," bighorns are a "lucrative game species," and mountain lions are not well liked among the two groups.
But Raul Vega, Region 5 supervisor of Game and Fish, said his and the department's mission is to restore the native wildlife populations. In the past, the state has been successful with 2,000 other wildlife relocations of many species, including the Gould's turkey, he said.
"It is important that we continue to restore those native wildlife populations, otherwise 10, 20 years from now, we are not going to have those species here," Vega said.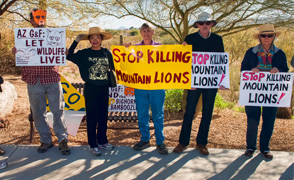 Members of Friends of Wild Animals protesting.

AZPM Staff
He said the killing of two mountain lions is part of a predator management plan that, he hoped, will eventually lead to a successful coexistence between the two species. He explained the department has been careful about the number of lions it removes to keep populations balanced.
Pachano sees things differently.
"Game and Fish is treating the Catalinas like a stock pond," he said. "They want to put in the species that they want, and move the species that interfere with this population they are trying to produce. They are collaring the sheep for life, they are killing mountain lions and they are flying helicopters into the wilderness."
He said wild animals should be wild, and the department is not giving either species that respect.
Friends of Wild Animals has organized protests at Game and Fish offices and has filed a public information request on the bighorn reintroduction program.
Despite criticism, Vega said he hopes the newly discovered bighorn lambs are the first proof of success.
"...the story is not over yet," he said. "Give us an opportunity (because) we have done this throughout the state. The public needs to wait and see."