Noted historian, author and critic Simon Schama explores the Jewish experience from ancient times to the present day in this new five-part series.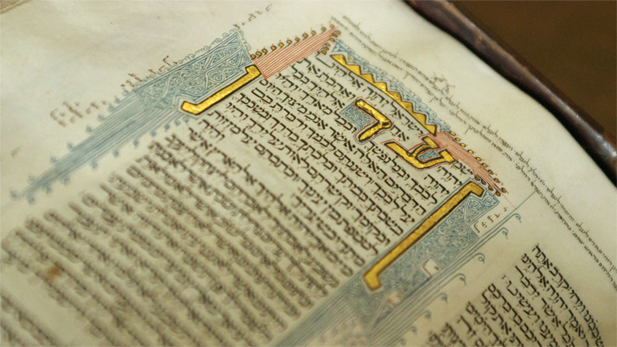 The Coruna Bible, the Shema Prayer
The Story of the Jews with Simon Schama
8 p.m.
In The Beginning
The story of the Jewish experience begins 3,000 years ago with the emergence of a tribal people in a contested land and their extraordinary book, the Hebrew Bible, a chronicle of their stormy relationship with a faceless, formless, jealous God. It was loyalty to this "God of Words" that defined the distinct identity of the ancient Jews and preserved it despite all that history could throw their way — war, invasion, deportation, enslavement, exile and assimilation. The story unfolds with a dazzling cast of historical characters: Sigmund Freud dying in exile in London; Victorian evangelicals and explorers following "in the footsteps" of Moses; Jewish mercenaries living, prospering and intermarrying in the pagan land of Egypt; Messianic Jews dreaming of the Apocalypse; and a Jewish historian, Josephus, who witnessed first-hand the moment when the apocalypse finally came and the Romans destroyed the Jewish High Temple in Jerusalem.
9 p.m.
Among Believers
Part 2 continues with the story of medieval Jews struggling to preserve their identity — and sometimes their lives — under the rule of Christianity and Islam. Whether labeled "Christ-killers" by the Christians or "dhimmi" (non-Muslim citizens of an Islamic community) by the Muslims, diaspora Jews built new lives and invented new ways of being Jewish in exile in the face of discrimination, blood-libels and persecution interspersed with periods of tolerance, protection and peaceful co-existence. Drawing on some of the extraordinary documents they left behind, this episode offers a vivid portrait of Jewish bankers, merchants, doctors, poets and artists flourishing in Lincoln, Cordoba, Venice and Cairo and tells the heart-rending story of their mass expulsion from Spain in 1492.
The Story of the Jews with Simon Schama, Parts 1 & 2, Tuesday, beginning at 8 p.m. on PBS 6.