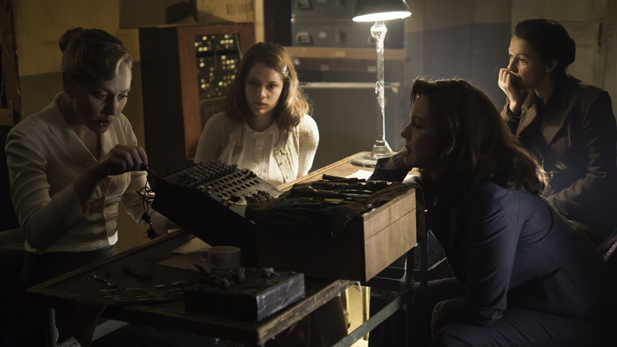 Hattie Morahan as Alice, Sophie Rundle as Lucy, Julie Graham as Jean, Rachael Stirling as Millie
Alice Merren is in prison awaiting trial for the murder of her former Bletchley Park colleague. Jean, believing Alice is covering for someone, begins to reunite the circle to help establish the innocence of one of their own. The investigation leads to a young woman who seems to have had a relationship with the deceased and in whose home they find documents suggesting a military cover-up of a chemical spill. The women use the skills honed at Bletchley Park - and take dangerous chances - to try to exonerate Alice. Alice is facing the gallows - it's a race against time to prove her innocence and save her life. Through a search of documents and confidential police information, the women believe the murder was part of a wider military cover-up. When Susan gains entry to a military hospital, she learns the truth. Meanwhile, the other women's lives are in danger.
Bletchley Circle: Blood On Their Hands, Part 2, Sunday at 9 onPBS 6.