Enjoy an uplifting comedy-drama about romance and second chances. Childhood sweethearts Alan (Derek Jacobi) and Celia (Anne Reid), both widowed and in their 70s, fall for each other all over again when they are reunited after nearly 60 years.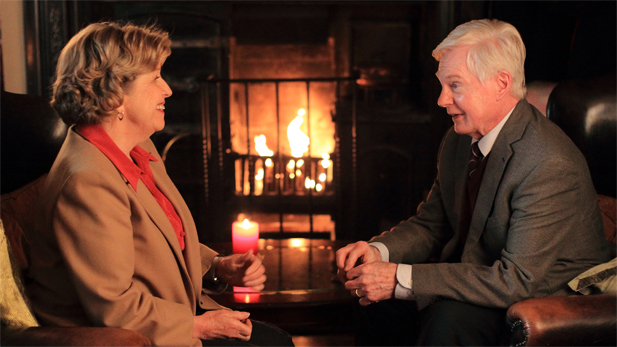 Alan and Celia sit by the fireside in a café. (PHOTO: PBS)
8 p.m.
Episode 1
Alan and Celia are stranded when Alan's car is stolen. They phone their respective daughters, arrogant Caroline and happy-go-lucky Gillian, to pick them up. Seconds before they actually meet, the women argue bitterly over a parking space. Celia and Alan introduce them to one another and make a surprising announcement.
9 p.m.
Episode 2
Celia and Alan are enjoying their new life together, but widowed Gillian and separated Caroline have problems with their respective children and partners. During Celia and Alan's engagement party, Gillian's son is arrested for assaulting his mother's young lover.
Last Tango in Halifax, Sunday beginning at 8 p.m. on PBS 6.