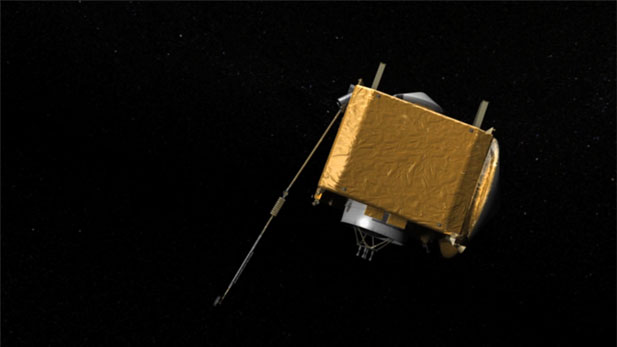 Demonstration video of OSIRIS-REx.

AZPM
Listen
Global politics have created issues for the OSIRIS-REx mission.
The team has plans to use an Atlas 5, which uses a Russian-made engine. Conflicts in Ukraine have become an unexpected obstacle for the team.
"I didn't realize it but a Russian company is building the main engine for our launch vehicle," said Dante Lauretta, OSIRIS-REx mission's principal investigator. "This job always surprises me, and I had no idea how international headlines could have a direct impact on this mission."
At first, the U.S. enacted a retaliatory embargo against Russia, preventing the delivery of the engines. The embargo has since ended. However, SpaceX, a private company that wants to build their own rocket engines for the U.S. got a federal court to issue a new ban on importing rocket engines from Russia.
"So, that's a huge risk for us," Lauretta said. "I'm not directly responsible for the launch vehicle but I can't get to Bennu without it, so I've got to pay attention to what's going on there. And the good news is, we believe we're going to be able to import those engines. They're still in Russia, so we're watching the situation very closely."
OSIRIS-REx is a 14-year space mission to obtain a sample from the asteroid Bennu, which scientists say has a 1 in 1,800 chance of hitting Earth late this century.
Six highly specialized instruments will be aboard the spacecraft to help retrieve that sample. Those include OLA, a laser altimeter designed and built by the Canadian Space Agency. The instrument is a vital part of the mission, according to Michael Daly, a scientist working on the altimeter in Toronto.
"So there's a number of reasons to have it. The science reason is ultimately to get the shape of the asteroid, and we need shape to get densities and to look at the topography of the asteroid and to understand the geology that's gone on the asteroid," he said. "The other reason is with that topography we can also use it to decide where the best place is to sample."
The construction of the OLA laser hit a snag though, and its future was uncertain until weeks ago.
Lauretta said building the OLA laser became a problem when the team in Toronto couldn't secure funding from the Canadian government.
"But that team ran into a lot of political roadblocks. They were going to Canadian Parliament for the next few million dollars to build the flight unit for OLA, and that process got really delayed and they were starting to get to the point where any more delay was going to mean they just simply could not build the instrument and deliver it to us on time," he said.
The situation came to a head earlier this month.
"So we got good news on June, 12 of 2014. The Treasury Board approved OLA for flight hardware fabrication so they have a new schedule they are gonna be there late. So they're going to be there well after everybody else but we'll be waiting for them and we look good," Lauretta said.
On the Russian front, it is unknown whether the ban will be lifted in time for the team's deadline. If those engines arrive, OSIRIS-REx is scheduled to launch from Cape Canaveral, Fla. September 2016.
Tom Kleespie produced this story. Arizona Public Media will follow the progress of the mission as it unfolds.