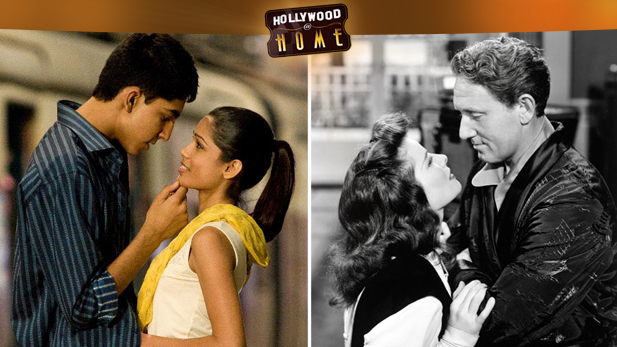 Slumdog Millionaire
Jamal, a poor boy from the Mumbai slums, becomes orphaned when his mother is murdered. He and his brother, Samir, befriend a young girl, Latika, who is in the same desperate situation. Violence and poverty separate them, and gentle Jamal grows to be the tea boy in a call center, teased and harassed by those round him. By chance, Jamal and Latika have a very brief re-connection, and though Jamal learns where his lady love is, it risks his life and hers to try to run away with her. He knows she likes the television show that is the Indian version of "Who Wants to be a Millionaire," so he becomes a contestant, hoping that she will see him.
Woman of the Year
Academy Award winners Spencer Tracy and Katharine Hepburn star as to feuding news reporters--sportswriter Sam Craig, and foreign correspondent Tess Harding--who fall in love and marry when they finally meet. But their highly combustible relationship explodes when Tess is voted Woman of the Year.
The feud ends and the romance begins when Sam convinces Tess to go to her first baseball game ever. But an intellectual, independent feminist and a regular, sports-loving guy mix like oil and water: She never expected to be hosting his rowdy pals, and he never anticipated harboring a fugitive from the Nazis on their honeymoon. Now, will the love between two very strong-willed people be enough to hold their marriage together in this romantic comedy classic?
Hollywood at Home Double Feature, Saturday beginning at 9 p.m. on PBS 6.