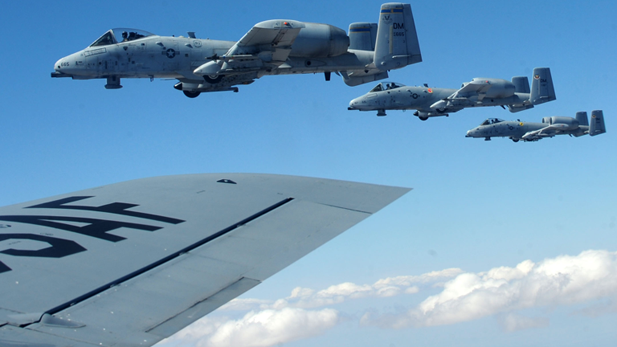 Davis-Monthan Air Force Base
Listen:
Training flights by visiting air crews at Tucson's Davis-Monthan Air Force Base will nearly double in number this year and ongoing, base officials said Monday.
The news came in release of D-M's "draft environmental assessment," a report on how the base's activities affect the surrounding areas.
The study looked at what the Air Force calls Total Force Training, a program more commonly known as Operations Snowbird, which brings U.S. and foreign military pilots and crews to train in Southern Arizona.
Col. James Meger, commander for the 355th Fighter Wing at the air base, said the additional flights would account for 6 percent of all flight operations at the base if the plan is approved.
The report said the increased flights would have no environmental impact on Tucson and the surrounding area. The noise level would be roughly the same, with the area affected by noise expanded by about 100 feet, the report said.
The report is open for public comment for 30 days.
Read the DM Environmental Assessment

View at Google Docs
|

Download File
Read Appendix A to the DM Environmental Assessment

View at Google Docs
|

Download File
Read Appendix B to the DM Environmental Assessment

View at Google Docs
|

Download File
Read Appendix C to the DM Environmental Assessment

View at Google Docs
|

Download File
Read Appendix D to the DM Environmental Assessment

View at Google Docs
|

Download File