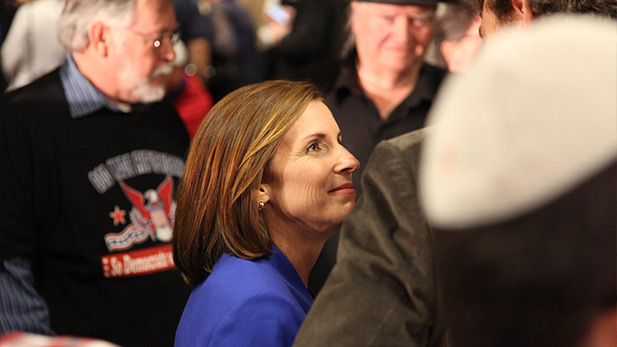 Martha McSally at the Pima County Republican Party gathering in Tucson on Election Day, Nov. 4, 2014.

Eric Rawdin, AZPM
With all ballots counted in Pima County, Republican Martha McSally had a lead over Democratic incumbent Ron Barber of 161 votes, or 0.08 percent, in Arizona's 2nd Congressional District.
Under Arizona law this requires a recount since the margin is less than 200 votes. But that won't occur for nearly three weeks because the current results won't be made official until the election canvass Dec. 1.
Two newspapers reported Wednesday that recounts rarely change the outcome of an election.
The Arizona Republic quoted Tempe pollster Michael O'Neill as saying, "This is now McSally's race to lose."
The Arizona Daily Star quoted secretary of state spokesman Matt Roberts as saying that the most recent recount in the state was over a proposition in 2010. The vote count changed some in the recount, but not enough to change the outcome, Roberts said.
McSally said in a statement Tuesday evening she was "confident that when all ballots are in, our lead will hold." She planned to meet with news reporters toward the end of the day Wednesday.
Barber spokeswoman Ashley Nash-Hahn said in a statement Tuesday afternoon that the Democrat "will work to see that every lawful vote is counted." She alluded to a potential legal challenge to get hundreds of disqualified votes into the count.
"We remain committed to protecting the integrity of the vote in Southern Arizona," Nash-Hahn said in an emailed statement. "In Pima County, 782 voters had their ballots rejected, and those votes have not been counted. During the legal recount process, we will work to see that every lawful vote is counted and that the voices of Southern Arizona are heard."
County officials said most of those ballots were rejected because the voters were not registered or because they voted at the wrong precinct.
Pima County came close to completing its vote count Tuesday, with 2,664 ballots tallied. Another "roughly 200" ballots remained, and those would only be counted if the voters showed up at county offices to show proper identification, a spokesman said. An additional 208 general election ballots were found Wednesday afternoon while processing envelopes for a special school board election in Green Valley's Continental School District.
McSally challenged the counting of some provisional ballots in Pima County Superior Court Monday for lacking poll workers' signatures, but a judge rejected the request. There was no word from McSally's campaign about the possibility of an appeal. She also challenged ballots in Cochise County in the 2012 election, but that challenge was dropped.
Barber won the 2012 election over McSally by 2,454 votes, or 0.84 percent, in a race that took 11 days to settle.
Both sides have made calls for campaign contributions to help cover costs of a recount. The task would be paid for with public money, although the campaigns would have expenses for lawyers and others involved in observing the process.
A congressional race in Arizona is subject to recount if the margin is fewer than 200 votes after the official secretary of state's canvass and certification.
The secretary then would go to Maricopa County Superior Court, where a judge would issue an order for the recount, which would be conducted electronically by the secretary of state. Following a hand count of a small number of randomly selected precincts and comparison of that with the electronic count.
If the count is within a predesignated margin, the results will be declared final, and the judge will issue an order to that effect.