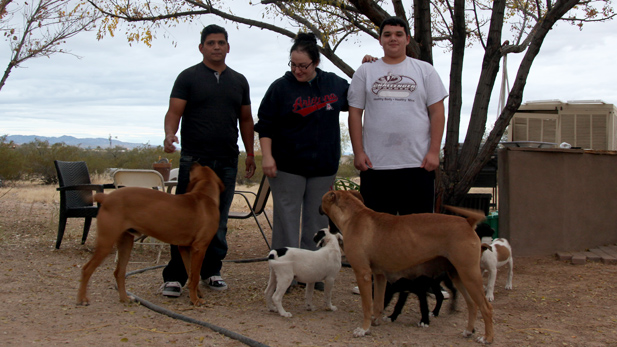 Daniel Neyoy Ruiz with his wife Carla and son Carlos at their home in Tucson.

Fernanda Echavarri, AZPM
Listen:
Daniel Neyoy Ruiz and his wife Carla are one of thousands of Arizona parents who could benefit from President Barack Obama's executive action on immigration.
They have been in Tucson for almost 15 years without immigration documents, have no criminal record and a U.S. citizen son, which under the new policy, can grant them a three-year shield from deportation and a temporary work permit.
Carlos, 13, said he never thought his citizenship status could give relief to his parents.
"People at school talk about their parents being deported, and about what's going to happen," Carlos said, adding he was thankful his family will not have to worry about that for "at least a little bit longer."
Daniel was the first person to be given sanctuary at the Southside Presbyterian Church in May, after receiving a deportation order. The church had not given sanctuary to anyone since the 1980s, when it gave refuge to Central American migrants.
Daniel's deportation order was removed after a month in sanctuary, and Immigration and Customs Enforcement granted him a one-year-stay.
"If I hadn't sought sanctuary, I would've been deported and would've missed out on Obama's deferred action," he said.
Applications are not yet available for the Deferred Action for Parental Accountability, but the Ruiz family is "ready for when it's time."
The policy will not take effect until 180 days after the president's announcement on Nov. 20, according to U.S. Citizenship and Immigration Services.