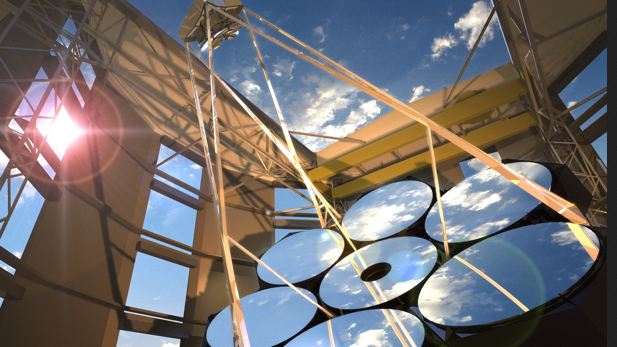 Artist's rendering of the Giant Magellan Telescope.

GMT Organization
Listen:
A $20 million gift from a Scottsdale businessman will fund the University of Arizona's involvement in the international Giant Magellan Telescope Project.
The UA announced the gift Monday, saying it was from Richard F. Caris, a longtime contributor to the institution's telescope projects. Caris' contribution covers one-third of the UA's commitment to the telescope project, which is a consortium of 11 organizations from around the world.
The telescope will be built in Chile's Atacama Desert, with completion scheduled for 2021.
"It'll have the highest spatial resolution of any telescope that humanity's ever built," said Buell Jannuzi, head of the U of A's astronomy program and director of the Steward Observatory.
Jannuzi described spatial resolution as the ability to see fine detail in far-off objects. In other words, the Giant Magellan will help astronomers see the universe more clearly. The telescope will have 10 times the resolution of the Hubbell Space Telescope.
The Steward Observatory Mirror Lab on the UA campus is producing the main mirrors for the telescope. In honor of the gift, it will be renamed the Richard F. Caris Mirror Lab.
Caris' company builds high-tech equipment used in the aerospace, medical and automotive industries.