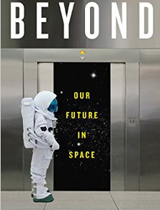 Why do some humans have such a strong desire to explore the unknown, regardless of the risk?
That question provides the starting point for scientist Chris Impey's new book, Beyond. Impey documents where space travel has taken us so far, and looks ahead to where it may lead.
Chris Impey is an award-winning cosmologist, astrobiologist, and a Distinguished Professor of Astronomy at the University of Arizona...
Listen:
Chris Impey's book Beyond will be published in April, 2015.
In am excerpt from the interview not used on radio, Chris Impey explains how he measures his student's attitude toward space, and why he was drawn to working in this field...
McLemore: How long have you been teaching?
Impey: I've been teaching here - this is my first faculty job - for 28 years.
McLemore: Have you seen the student's attitudes about space travel change in that time, and if so in what way?
Impey: Yes, and I actually measure it, and we do a little experiment. I am teaching 150 (students) right now in Intro Astronomy class, so we'll be doing this in a couple of weeks.
I do one of these polls where you ask people would you go up at all for any money, because some people wouldn't. Then I sort of cost it out and I say right now what is the most you would spend on… well, let's make it earth orbit for a day or so, something beyond the Branson idea.
I play it out and say, you are a working professional, what's the amount you would ever spend in your life (on a) once in a lifetime experience? Based on their earnings I can project the students in my class to the 22 million students their age around the country, and then we can generate a revenue estimate.
It's an interesting number and its increased. It bumps up and down class to class, but generally there has been a steady increase in awareness, interest and willingness to partake in this.
The number, if you project the revenue for a once in a lifetime trip by that demographic, is about a 100 billion dollars a year. It's a substantial amount of money. A Hollywood box office I guess is 20 billion or something to compare. It's right up there with all other forms of entertainment revenue. So if only even one in ten that said they would, would actually do it - even if they could all afford it - you've got a pretty healthy business model.
McLemore: When you were young, did you hope or dream that at this point you might be working in space?
Impey: I sort of thought it would go [that way]. Where is my Dick Tracy watch? Where's my personal hovercraft? Yes, I was seduced by the science fiction of my day and by the trajectory that seemed to be set in place by Apollo. It was hard to watch the retrenchment, or acknowledge how difficult this was, or that it was not the highest priority for humans and countries on this planet.

Chris Impey, University Distinguished Professor