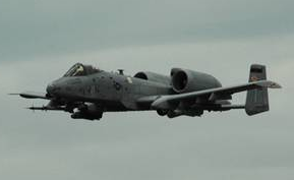 A-10 Thunderbolt from Davis-Monthan AFB.

Davis-Monthan Air Force Base
Listen:
The Air Force announced Friday it will put 18 A-10 airplanes into backup status, including nine aircraft at Tucson's Davis-Monthan Air Force Base.
The announcement was made in a press release from the secretary of the Air Force.
Half of the planes grounded world wide are coming from Davis-Monthan. Congresswoman Martha McSally, R-Arizona, said that is not a good sign.
"To have nine come out of one base is, I think, overkill," said McSally.
About 80 A-10s are based at Davis-Monthan, and amid Pentagon budget-cutting efforts, members of Arizona's congressional delegation and community leaders have pushed for it to stay in service.
The backup status means the planes are available to fly if another is either damaged or isn't air worthy. Those planes do not have assigned pilots or ground crews.
McSally said the cuts are difficult to reverse, "they are focusing on the maintenance guys but you are giving them orders to go elsewhere to go and retrain in some other skill set perhaps."
Training for the A-10 is Davis-Monthan's primary mission.
Congress has so far blocked Air Force efforts to retire the plane, led by Republican Sen. John McCain and Republican Rep. Martha McSally. McSally is a retired A-10 pilot and squadron commander.
Military officials have said their budget requires prioritization that grounds the A-10, while the members of Congress have argued it is needed for ground support of troops. They point to its performance in the recent wars in the Middle East.