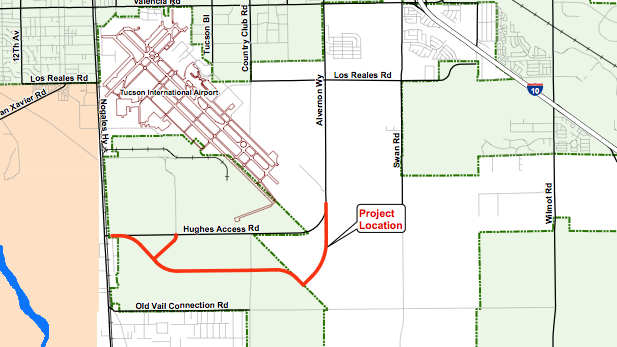 Route of Aerospace Parkway, 5-mile, $12.7 million roadway on Tucson's South Side.

Pima County
Listen:
Pima County will break ground for Aerospace Parkway Tuesday on Tucson's South Side.
The new road will replace Hughes Access Road, which sits one-half mile to the north. That has been too close for comfort for Tucson's largest private employer, Raytheon Missile Systems, whose officials have said there is not enough buffer for the security-sensitive operation and for potential expansion.
Pima County officials said the five-mile, $12.7 million road project will be part of a large, multi-stage economic development plan that could help turn Tucson into a hub for regional transportation and for the aerospace industry.
Other aspects of the transportation package include a proposed second runway at Tucson International Airport and an extension of the rail line that connects Tucson and Nogales to intersect with Union Pacific's main east/west route.
"This is really the first step, the road," said Pima County Administrator Chuck Huckleberry. "The next steps are the second runway and additional rail access, and really creating a logistics center in the vicinity of the Tucson International Airport that is the logistics center for the southwestern United States."
Huckleberry said the new road may help entice other aerospace companies to join Raytheon and set up shop along Aerospace Parkway.
Money for the project is coming from the Pima County Regional Transportation Authority.