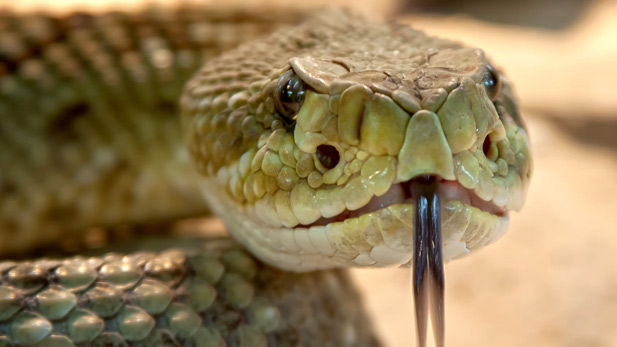 Listen:
Arizona has 13 species of rattlesnakes which is great for people like Melissa Amarello and Jeff Smith.
Amarello and Smith are co-founders of Advocates for Snake Preservation, a non-profit organization that tries to educate people about the often-maligned reptiles.
Smith has a master's degree in ecology and evolutionary biology from the University of Arizona and Amarello has a master's degree in biology from Arizona State University.
Both have worked with other animals in the past, but Amarello believes snakes need special attention because many people don't like them.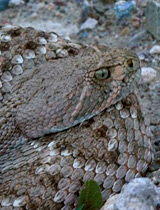 A western diamondback rattlesnake. (PHOTO: Melissa Amarello)
"I think we can all respect them and appreciate them and just let them do their thing," Amarello said. "The same way that we give a lot of other animals that may not be our favorite things in the world, but that doesn't mean we have to round them up and kill them."
Biologists say rattlesnakes do not seek to bite human beings because we are not their prey and the reptiles could never eat us.
However, they do often strike if they feel threatened or cornered because rattlesnakes are a food source for many animals including coyotes, roadrunners and eagles.
"That doesn't mean we have to kill everyone that comes into our yard," Amarello said. "Doesn't mean we have to swerve off the side of the road to run over them."
Most people who are bitten got too close to the animals, tried to handle them or even stepped on them by mistake.
Experts say you should never approach or harass the snakes, but if you are bitten, you should seek immediate medical attention.