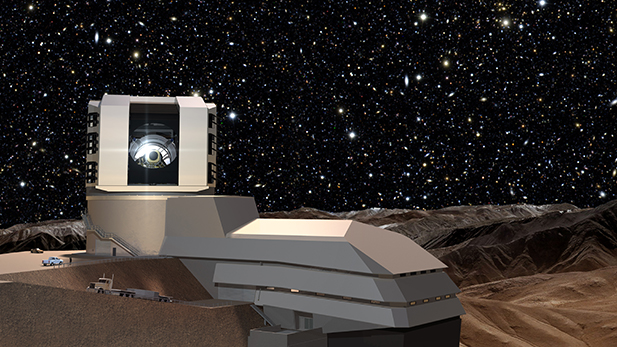 A computer-generated image of LSST's location on Cerro Pachón in Chile. (Image by Todd Mason, Mason Productions Inc./LSST Corporation)
On the other side of the hemisphere, researchers are installing a revolutionary telescope, which began construction at the University of Arizona.
The LSST, or Large Synoptic Survey Telescope, will be the first of its kind capable of producing digital images of hard-to-see sky phenomena, like the light of exploding stars across the universe.
Its home is in the Andes Mountains in Chile, but the heart of the instrument, a uniquely designed set of mirrors, was built at the UA's Optics Laboratory.
"It's exciting to see the work of hundreds of people from … around the world, coming together," said Buell Jannuzi, who heads the UA's Steward Observatory and Department of Astronomy, in a statement from the LSST's construction site in Chile.
The LSST's 3-billion pixel camera will allow it to capture the faint light of asteroids, exploding stars, and other objects that can be difficult for other telescopes to see.
The data will help astronomers study the growth of our universe, perhaps even helping to better form theories of what happened at the very beginning of it all: the Big Bang.