Listen
A federal appeals court is scheduled to hear arguments Friday on President Barack Obama's executive actions on immigration.
The two-hour hearing in New Orleans will not be about the constitutionality of Obama's actions. It will be about whether to grant the federal government's motion to put a previous injunction on hold allowing people to apply for deportation relief while the case is in court.
The case was brought to court by 26 states including Arizona. The states say Obama's actions are unconstitutional and they encourage more illegal immigration.
Obama's plan would allow people who have been in the country at least five years with children who are U.S. citizens or legal permanent residents, to defer deportation and receive work permits, assuming they pass background checks and meet other criteria. It would also expand an already implemented program that gives temporary work permits to young immigrants brought to the U.S. as children.
The day before thousands of people could apply for some of the changes in February, a district judge in Texas placed an injunction on the president's executive actions.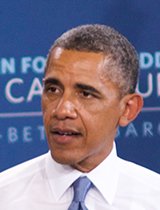 (PHOTO: Yoohyun Jung)
The Justice Department requested an emergency stay that would have allowed the federal government to start implementing the program while the case was in court. The request was denied.
On Friday, the Fifth Circuit Court of Appeals will hear that request.
In Arizona it could defer deportation for as many as 135,000 people living in Arizona, a report showed.
The Migration Policy Institute estimated 45 percent of undocumented immigrants in the state could be eligible for deferrals under Obama's plan. Applying the percentage to another estimate, by the Pew Research Center, that 300,000 undocumented people live in Arizona, the result is 135,000.
It is unknown when the Fifth Circuit Court of Appeals will decide on whether to grant the federal government's request to allow an emergency stay.