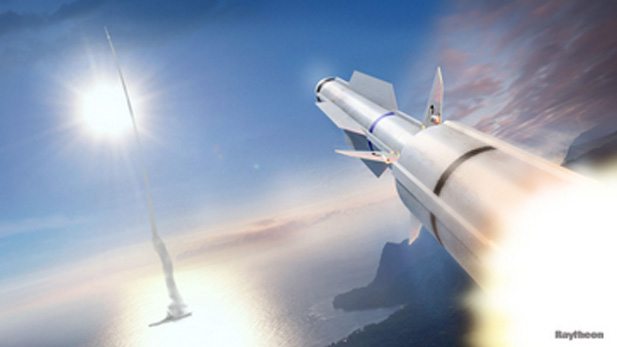 Listen:
Raytheon Co. announced Monday it won a $559 million Missile Defense Agency contract for guided missiles.
Raytheon has agreed to deliver 44 missiles, called SM-3 Block IBs, but this could be increased to 52 missiles, a press release said. The impact of the missiles is comparable to that of a 10-ton truck traveling at 600 mph and is directed at incoming missiles.
"We've consistently demonstrated the SM-3 Block IB's quality, and now combatant commanders are focused on building up their quantities," Mitch Stevison, senior program director, said in the release. "This contract award reflects the confidence the Missile Defense Agency has in this missile's regional ballistic missile defense protection."
Portions of the missiles are built in Raytheon Missile Systems' Tucson plant, and assembled in Huntsville, Ala.
"It's very important to the Tucson area because this is where the brains of the missile, the guidance unit, the guidance section are built in our state of the art facilities," said Kenyon Hiser, program director for the SM-3 Block IA and IB program.
Hiser said the order is in line with what Raytheon Missile Systems is capable of producing at its Tucson facility, so no new hires are expected.
The SM-3 is designed to intercept incoming short-to-medium range missiles before they reach their target, and can be fired from launchers on either the ground or water.