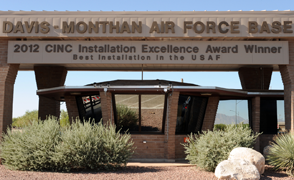 Davis-Monthan Air Force Base
Listen:
A new report from Davis-Monthan Air Force base shows that during fiscal year 2014, the base added $974 million to the Tucson economy. When area military retirees are added to the equation, the amount jumps to $1.5 billion.
Three-quarters of the 7,000 military service members assigned to the base live in the surrounding Tucson community. The base employs nearly 10,000 people. The total payroll for FY 14 was $541.8 million.
"4,200 jobs were created downtown and if you take the average pay of people downtown that translates into about $178.9 million," said Lt. Col. Gerald Stevenson of the base's impact.
Stevenson is the base comptroller and wrote the report.
The base covers 5,952 acres in Tucson. It also has 4,578 acres of easements and leased land in the area.
Read the Davis-Monthan FY 2014 Economic Impact Report

View at Google Docs
|

Download File