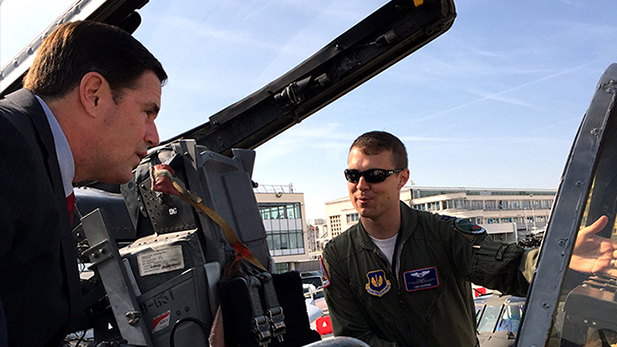 Gov. Doug Ducey meets with an A-10 pilot based at Davis-Monthan Air Force Base during the 2015 Paris Air Show.

Courtesy of the Governor's Office
Listen:
Officials with Boeing are interested in selling U.S. A-10 airplanes to allied nations if the Pentagon retires the craft.
Boeing officials at the Paris Airshow told Military.com there is some interest in the used planes. The company has a contract through 2017 to refurbish the wings on about half of the A-10 fleet.
The Pentagon is trying to retire the entire 300-plane fleet as a cost-saving measures. Congress has turned that request away three times in recent years.
Davis-Monthan Air Force Base in Tucson houses about 80 of the planes.

Boeing has little actual say in the sale of used military aircraft to foreign countries. A specific office in the Pentagon and the buying country's embassy handles the practice known as Foreign Military Sales.
In addition to the 300 A-10s in active service, 21 are in storage at the Boneyard in Tucson. Officials there say they have not been contacted about the sale of any of those planes.