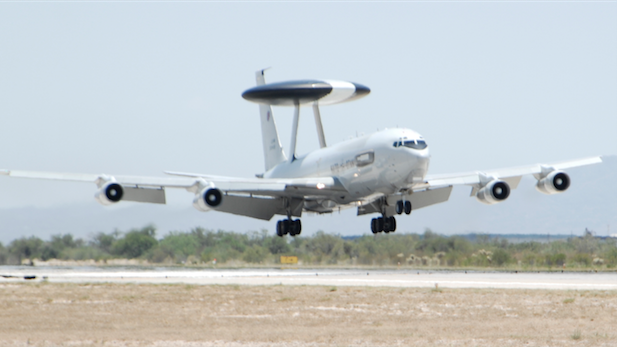 First NATO E-3A AWACs surveillance jet to go into storage at Davis-Monthan Air Force Base arrives June 23, 2015.

U.S. Air Force
A big military surveillance and communications jet, the E3A AWACS, arrived at Tucson's Davis-Monthan Air Force Base Tuesday for storage at the "boneyard," Air Force officials reported.
The plane, a modified Boeing 707, has a distinctive dome top filled with high-technology gear making it what the military calls an "Airborne Warning and Control System," allowing it to function as a flying command center and to conduct surveillance.
The plane that arrived in Tucson Tuesday was part of a NATO fleet at an air base in Geilenkirchen, Germany, the Air Force said in a press release.
This is the first ever NATO AWACS to be retired, the press release said. NATO has 16 others.
The "boneyard," formally called the Military Aircraft Storage and Disposition Center, holds more than 4,000 military aircraft.