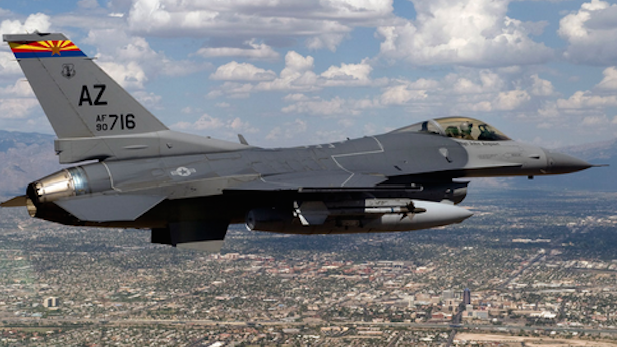 F-16 from the 162nd Fighter Wing, based in Tucson.

Arizona Air National Guard
The body of an Iraqi Air Force general whose F-16 fighter jet crashed on a training mission near Douglas this week was found in the plane's wreckage, The Arizona Air National Guard confirmed Friday.
Brig. Gen. Rafid Mohammed Hassan died in the crash east of Douglas Wednesday night.
He was the only person aboard when the F-16 Fighting Falcon went down on a training mission with the Arizona Air National Guard's 162nd Wing.
"Our coalition partners are vital to our wing, and we have lost one of our own," U.S. Air Force Col. Phil Purcell said in a statement. Purcell is commander of the 162nd Wing.
The crash site was five miles east of Douglas Municipal Airport, southeast of Tucson. The cause remained under investigation.
Iraq has purchased F-16s with U.S.-trained Iraqi pilots and spare parts. Iraqi military has said the planes would be immediately used to carry out operations against the extremist Islamic State group.
The 162 Fighter Wing is based at Tucson International Airport.