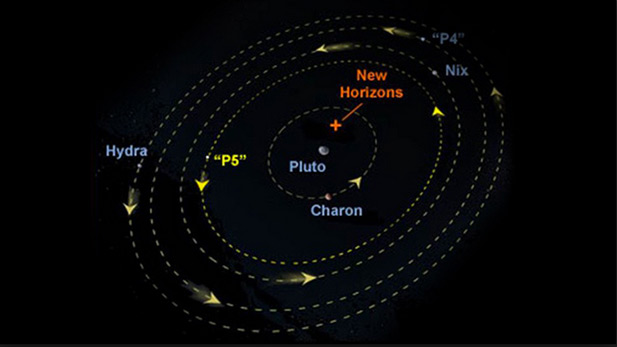 NASA
Just before the turn of the twentieth century, Boston astronomer Percival Lowell became an international sensation for his observations of the planet Mars, and the strange features he called "canals" that he saw etched across the Martian surface.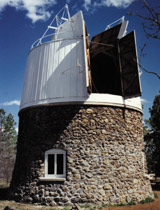 Pluto dome telescope, Flagstaff, Arizona (PHOTO: Lowell Observatory Archives)
Although Lowell's theories about the canals have since been disproved, his dedication to advancing the science of astronomy is well-respected.
After an exhaustive search of the Southwest, Lowell determined Flagstaff, Arizona to be an ideal location for an observatory, thanks to the dry climate, clear skies, high altitude, and access by railroad.
For almost a decade before his death in 1916, Lowell used the telescope he had built there to search for what he called "Planet X".
Using Lowell's methodology and equipment, "Planet X" was discovered in 1930 by astronomer Clyde Tombaugh, and soon was renamed Pluto.
This smallest and most distant member of our solar system is now classified as a "dwarf planet", and is receiving its first terrestrial visitor in the form of a flyby later this month from NASA's "New Horizons" mission. All of this is big news at the Lowell Observatory, and I spoke with Kevin Schindler and curator Samantha Thompson about the news...
Listen: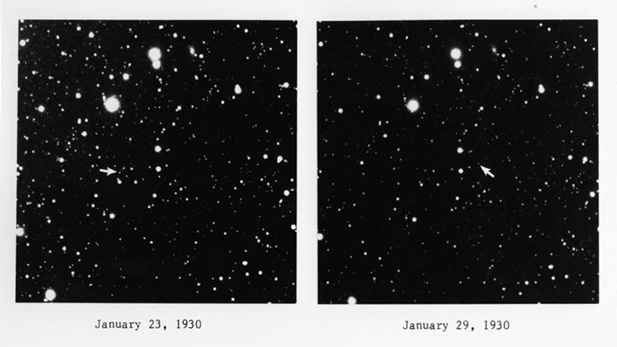 Copy of sections of the original glass plates on which Clyde Tombaugh discovered Pluto. The arrows show Pluto's movement against the background stars. Tombaugh discovered it by blinking the plates back and forth on a machine called a blink comparator.

Lowell Observatory Archives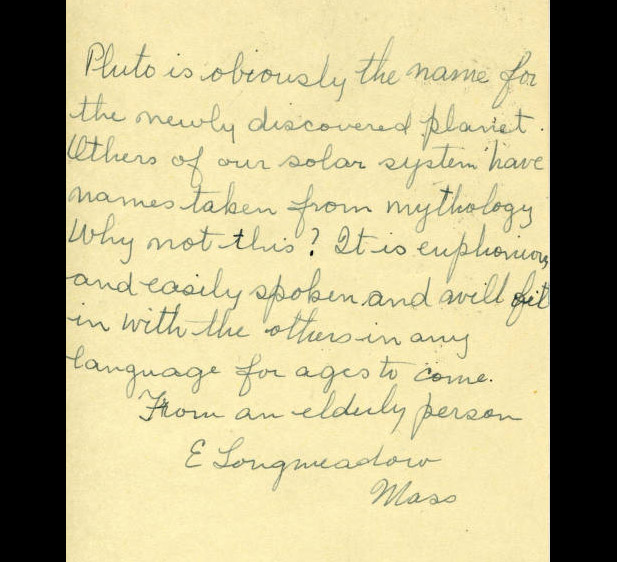 Postcard from an anonymous "elderly person" suggesting the name Pluto for Planet X.

Lowell Observatory Archives