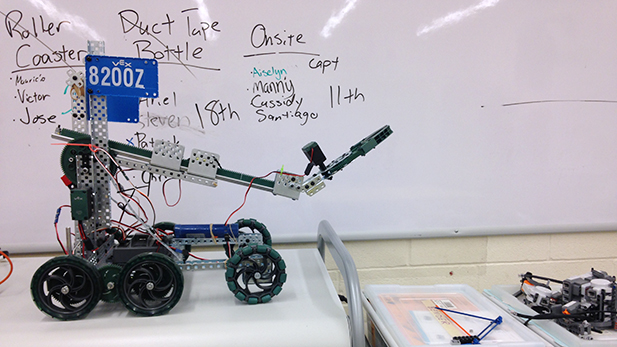 Anne Bonnie is a robot used in Scott Weiler's classes and the robotics club at Amphi Middle School.

Mariana Dale, AZPM
Listen:
When students ask Amphitheater Middle School teacher Scott Weiler why engineering matters, he points to a poster of the Orion spacecraft.
Weiler helped engineers work on components for the spacecraft that took its maiden voyage last December.
"Now I can say we are learning this because it's part of engineering, and they accept that fact," Weiler said of his students.

Weiler is one of about 150 teachers who have graduated from or are enrolled in the University of Arizona's Teachers in Industry program. In three years, students complete coursework to earn a Master's of Arts in teaching and teacher education, and work in science, technology, engineering and math jobs in the summer.
"Many of our teachers went straight into teaching," said Sanlyn Buxner, the program's research coordinator. "They never got insight into what it looks like to be in industry."
Teachers in Industry hopes to fill that gap.
The program has about 50 industry partners including Raytheon Missile Systems, Tucson Electric Power and Banner Health. Funding from the Freeport-McMoRan Foundation helps the program absorb more than half the teachers' tuition.
"Our program was designed to keep those early-year teachers who are coming out of teacher colleges in teaching," Director Julia Olsen said.
In addition to the degree and work experience, teachers earn around $8,000 each summer.
Reports from the state's education department show half of teachers leave the industry in the first five years. As this school year starts, hundreds of jobs are open at districts around the state.
Graduates of the Teacher in Industry program are likely to continue careers in education, Olsen said, citing the program's retention rate of 95 percent.
Side-by-side with engineers
Tracie Van Ert has worked in education for a decade, but her last formal experience with math and science ended with her undergraduate classes.
Through Teachers in Industry, she spent three summers working for Raytheon beside engineers to program robots and test frozen carbon dioxide's ability to clean equipment.
"For all three summers I was basically sat down, (told) here's the project here are the requirements. Now find a solution," Van Ert said. "And that's what I need to bring back to the classroom."
She will start the school year with new lessons based on her experiences in the STEM industry. Her students will build water filtration systems and brainstorm ways robots can be used in the future.
Van Ert will graduate with her master's degree in December and said though working in STEM was rewarding, she won't be leaving the classroom any time soon.
"I had a great experience, but my passion is teaching, so that's where I'm going to be staying," Van Ert said.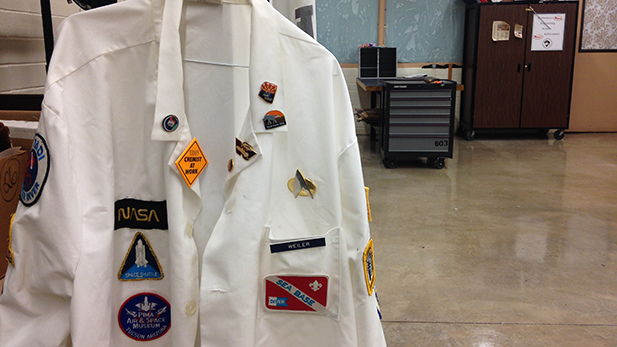 Scott Weiler's lab coat hangs in his classroom at Amphi Middle School. The pins represent both his interests and experiences with science.

Mariana Dale, AZPM
Find out more on the Teachers in Industry website. Applications are being accepted for summer 2016 class. A professional development course is also available.