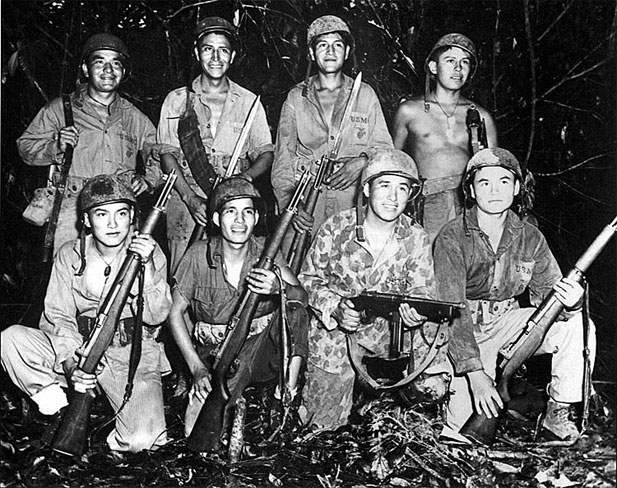 Navajo Code Talkers in the Pacific
Museums attract people from all walks of life and on this visit to the Arizona State Museum, U.S. Marines are paying their respects to the group of soldiers who played a crucial role in winning World War II: The Navajo Code Talkers.
During World War II, the Japanese used an elite group of English-speaking soldiers to intercept U.S. communications and use that information against American troops. The United States was forced to come up with more complicated codes to battle the enemy, but it was spending many hours just trying to communicate.
The Navajo Code Talkers consisted of bilingual marines who delivered their messages in 20 seconds while special machines would take up to 30 minutes to accomplish the same task. This traveling exhibition at the State Museum is the story of and tribute to the Native American Marines. Gerald Begay recalls the story his father told him.The idea of using the Navajo language came from a veteran. Philip Johnston was the son of a missionary who was fluent in Navajo. Initially, 29 code talkers were trained but eventually about 400 Navajos took part in every assault that the US Marines conducted in the Pacific from 1942 to 1945. They took a simple word and made an alphabet in Navajo. They were praised for their skill, speed and accuracy. At Iwo Jima, Major Howard Connor declared, were it not for the Navajos, the Marines would never have taken Iwo Jima. But Begay says his ancestors' success story is quite ironic. Even as the tribal members went off to war in 1941, Navajos did not have the right to vote until 1948 in Arizona. Other states came later.

Our Fathers, Our Grandfathers, Our Heroes...The Navajo Code Talkers of World War II through August 16th the Arizona State Museum
Thursday, July 30, 2009 - Growing up with Heroes: The Navajo Code Talkers of WWII, a lecture by Zonnie Gorman, daughter of Navajo Code Talker Carl N. Gorman. A nationally recognized expert on the topic, Ms. Gorman will give an illustrated lecture and take questions from the audience. The free event runs from 6 p.m. - 8 p.m. RSVPs are requested.
Listen to radio interview with Zonnie Gorman from Arizona Spotlight: