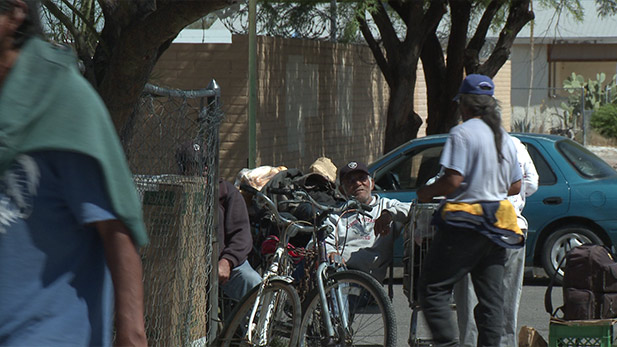 Soup kitchen workers hand out food to the homeless.

AZPM Staff
Listen:
Non-profit organizations, the Veteran's Administration and city officials have been working to end veterans homelessness in Tucson for the past two years, and they may not make their goal.
There isn't a precise number available of the number of people who have been housed, but it's more than 1,400, said Jodi Frederick, clinical director of rehabilitation services at the Southern Arizona Veteran's Administration.
"We're going to try as hard as we can to have the veterans housed by the end of December, that's what we're working on right now and that's what our goal is, I'm not sure if we're going to make it," she said.
If they do not meet the end-of-year deadline, the group will continue its work into 2016, she said.
The goal is to ensure a balance in the number of people who need housing and who get housing.
"Functional zero is what we're going for. Two of the metrics for that is it would be the the number of moving to permanent housing is greater than the number entering homelessness," Frederick said.
Tucson Mayor Jonathan Rothschild has said the efforts to end veterans homelessness will build an infrastructure of organizations and systems that will help end other kinds of homelessness. The next goal is to work on ending chronic homelessness.
The VA and other organizations find homeless veterans through word-of-mouth among veterans who have been housed, at community events, and by looking for people on the streets.

"We're moving toward making sure we have enough services, housing for the people that do come in that are homeless, and recognizing that there will be some that don't want to be housed," Frederick said.
More than 50 landlords have said they are interested in housing veterans, Frederick said. Federally-issued vouchers pay for housing homeless veterans, and the VA is working with the Tucson Pima Collaboration to End Homelessness.