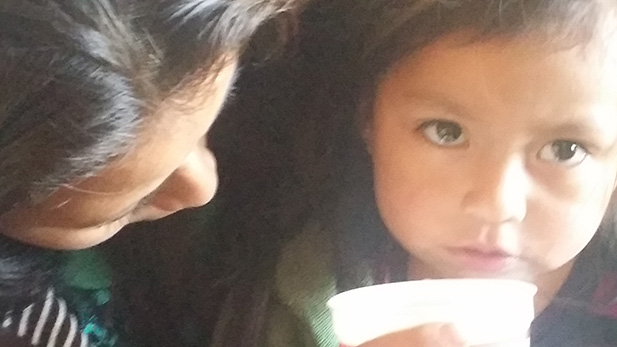 A Central American family at the Casa Alitas safe house in December 2015.

Nancy Montoya, AZPM
An organization that helps undocumented immigrants reported Monday that there has been an increase of Central Americans attempting to cross the U.S.- Mexico border.
Listen:
Casa Alitas is one of the Tucson safe houses where the Border Patrol drops off mostly Central American women with small children. Alitas means wings in Spanish.
Once the families are processed by border agents and found to have relatives in the U.S. who can sponsor them, they are released until a court date.

Without this safe house the families would be dropped off at the Tucson bus depot to find their own way to relatives across the country. Volunteers help arrange safe passage, and those volunteers are in short supply.

David Buss heard about the volunteer shortage and showed up to help.
"I know they have come from terrible and dangerous situation…and they fled," Buss said.
The number of families who came in last month was double that in November. No slowdown is in sight in the new year.
To learn more about the volunteer needs contact Jaime Flynn of Catholic Community Services at Jaimef@ccs-soaz.org