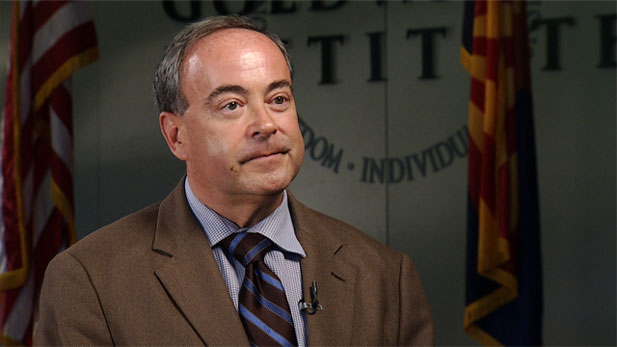 Clint Bolick, Goldwater Institute lawyer, appointed to Arizona Supreme Court.

AZPM
Goldwater Institute lawyer Clint Bolick was named to the Arizona Supreme Court Wednesday by Gov. Doug Ducey.
Bolick's appointment will place him in his first judicial job after he served for the last nine years as the Goldwater Institute's vice president for constitutional litigation. Previously, Bolick co-founded the Institute for Justice and served as president of the Alliance for School Choice.
"Clint is nationally renowned and respected as a constitutional law scholar and as a champion of liberty," Ducey was quoted as saying in a press release from his office. "He brings extensive experience and expertise, an unwavering regard for the rule of law and a firm commitment to the state and citizens of Arizona."
Bolick, on behalf of Goldwater, has won several cases challenging state laws across the nation and local governmental ordinances, including one that led to striking down of a Tucson ordinance giving preference to local businesses in awarding city contracts.
He also has been involved in litigation to uphold school voucher laws in Arizona and elsewhere and in a challenge to the city of Phoenix's practice of allowing paid "release time" for city employees to conduct union business.
In 2013, Bolick co-authored with presidential candidate Jeb Bush Immigration Wars: Forging an American Solution, a book outlining strategies for reforming federal immigration laws and practices.
On the court, Bolick will replace Justice Rebecca White Berch, who retired.