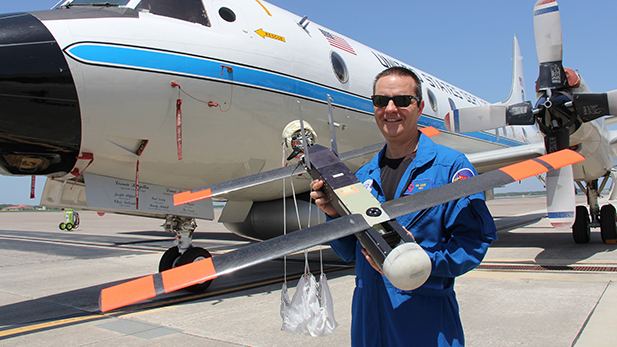 Hurricane researcher Joe Cione is leading NOAA's effort to use the Raytheon-produced Coyote unmanned vehicle with a P-3 aircraft to collect weather data to improve hurricane forecasting.

NOAA
Listen:
An unmanned aerial vehicle developed in Tucson will help the National Oceanic and Atmospheric Administration track hurricanes this year.
The vehicle was designed by Advanced Ceramics Research with funding from the Office of Naval Research. The company changed owners several times before Raytheon Missile Systems acquired it last year.
The UAV fits into a tube in the belly of a P-3 aircraft, used by NOAA to track hurricanes. P-3 Orion aircraft were flown by the Navy to hunt submarines during the Cold War.
When launched from the tube, a parachute opens and slows the Coyote, allowing its wings to open and the propeller to begin turning. The one-time-use is battery operated and designed to fly for about an hour up to 50 miles from the plane.
"Right now there is nothing else available to NOAA to fly inside a storm," said John Hobday of Raytheon's Unmanned Air Systems.
"If you were to try to fly a manned airplane down to several hundred feet above the ocean to collect this kind of data, that manned airplane would most likely not survive that flight," he said.
Sensors used in the past in hurricanes have dropped directly to the ocean, collecting atmospheric data in a column of air as it fell.
Hobday said the loitering unmanned vehicles also could be used for disaster response, search and rescue efforts, and for monitoring oil spills at offshore drilling sites.
The Arizona Science Desk is a collaboration of public broadcasting entities in the state, including Arizona Public Media.