Arizona Sen. John McCain Monday joined other Republican senators in saying that President Barack Obama's successor should fill the U.S. Supreme Court vacancy created by the death of Justice Antonin Scalia.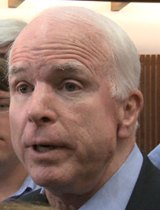 U.S. Sen. John McCain, R-Ariz. (PHOTO: AZPM)
McCain, who faces a primary election race against a conservative challenger, cited Democratic Sen. Chuck Schumer of New York in making the call.
"In 2007, Sen. Schumer said we should wait until after the election and then let the next president nominate," McCain said Monday. "That was back in 2007 before the 2008 elections. I agree with him."
At the time, there was no vacancy on the Supreme Court.
Speaking on Phoenix radio station KFYI, McCain referred to a Schumer speech urged the Senate to block any nominations during the final year of then-president George W. Bush's term. Last weekend, Schumer said the Senate should consider any nomination forwarded by Obama.
U.S. Rep. Ann Kirkpatrick, a candidate for the Democratic nomination for McCain's seat, in a press release quoted McCain in an interview a decade ago as saying "the president's nominees deserve an up-or-down vote."
Kirkpatrick said the Senate has an obligation to vote on Supreme Court nominees.
Obama has said he intends to announce Scalia's replacement "in due time."
Scalia was found dead Saturday at a resort ranch in Texas. His death leaves the court divided between four liberal and four typically conservative justices.