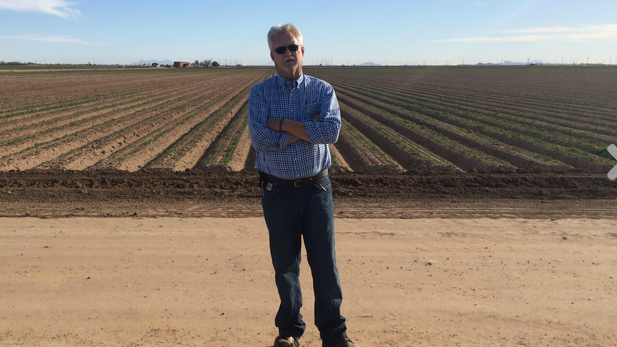 Paco Ollerton, Casa Grande wheat farmer, says he and other Arizona farmers are getting highly efficient with water.

Casey Kuhn, Fronteras Desk
By Casey Kuhn, Fronteras Desk
Listen:
Water is siphoned from a full irrigation ditch onto a field of young green wheat in Casa Grande.
Farmer Paul Ollerton, who goes by Paco, watches his acres flood in an irrigation technique that might seem wasteful, but with new technology, is actually one way farmers use less water.
"We try to land plane these fields and even things out, which helps a little bit," Ollerton said. "The less resistance you have going down even on a very flat field or even a field with slope to it, it's gonna be better."
Having a flat field is critical when using field-flooding to irrigate, as it keeps the water spread evenly with less runoff.
Ollerton said farming is in his roots, and by investing in the latest irrigation technology, he and other farmers in Arizona have reduced the water footprint of their crops in the last 30 years.
A state-funded University of Arizona study said Arizona growers spent more than $50 million in 2013 investing in new irrigation technology; $12 million of that was aimed specifically at water conservation efforts. Ollerton said, while expensive, the updated techniques help him be more efficient.
"Some of that technology's coming around, there's a little bit more knowledge that might give us some insight on a little bit better efficiency on our drip irrigation," he said.
Drip irrigation, which Ollerton uses on some of his other wheat acreage, is an irrigation system that sends water through pipes with holes in them on top of or buried in the field. It can cut down on evaporation and, according to the U.S. Geological Survey, with less water than flooding.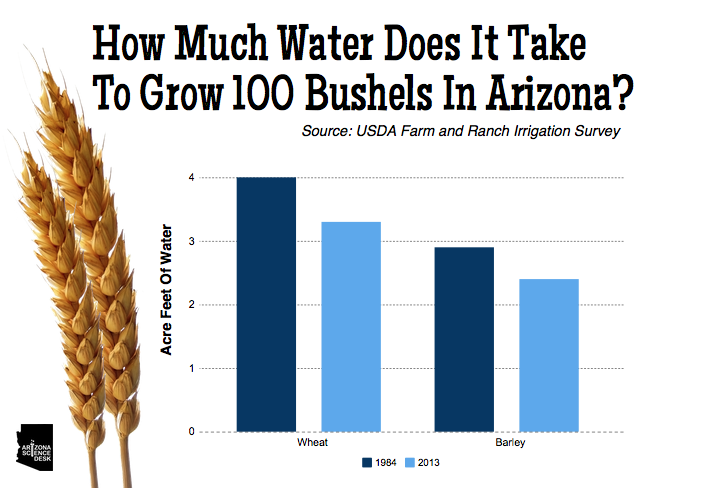 Fronteras Desk
Reasons For Less Water Use: Investments, Timing And Crop Switch
The study also shows that farmers changing the type of crop they plant has a water impact.
Like other Southwest farmers, Ollerton started in cotton, a water-intensive crop. Since then, he's made the switch to growing durum wheat.
Down the road from Ollerton's farm is Arizona Grain, a wheat supplier.
Eric Wilkey, Arizona Grain president, said more and more, buyers consider the sustainability factor when purchasing grain because consumers are more aware of how their food is sourced.
"What really got my interest and other people in the industry's interest is the whole social push about responsible farming and corporate responsibility," Wilkey said. "Some companies were questioning whether it was sustainable to grow and source durum wheat long term in the desert.
And in the last 30 years, the study shows that in fact, it is sustainable. And, farmers' wheat production has actually increased per acre while still conserving more water.
"About a 25-percent increase in productivity in the last 15 years," Wilkey said, citing the study.
How?
"Through genetics — genetics have also improved because for the same amount of inputs, were getting bigger yields with better plant varieties available," Wilkey said.
The study also found that by changing when they plant, farmers can be more water efficient.
For example, planting and harvesting before the hot summer, when water evaporates more quickly off the fields.

Using Water To Farm In A Drought-Stricken Desert
But, in a time of drought in the West, many continue to question the use of water for agriculture in the desert. One Reveal report criticized a Saudi dairy company using Arizona water to grow alfalfa, then shipping the alfalfa back to the middle east. A ProPublica investigation claimed cotton farming irrigation in the West contributed to the water crisis. KJZZ's own reports have looked at what water is being used for, and where.
But, University of Arizona law professor Robert Glennon said he sees agriculture as an important long-term investment for the region.
"We're in a world at 7 billion people, we're going to be 10 billion not too far distant future," Glennon said. "The question is a very serious international one about how do we feed people with that many people on the globe and I think Arizona agriculture will play an important role in that."
Back in Casa Grande, Ollerton said he won't quit farming because critics say it is a waste of natural resources. It's what he was born to do.
"I don't feel bad about doing what I'm doing, honestly," Ollerton said. "It's livelihood, it's in the blood, third generation, fourth and fifth. It's no different here than where you go to rely on rainfall."
Ollerton said he may invest more in irrigation technology if it can be profitable. But, with low prices for wheat and limits on what he can grow, the incentive to become more sustainable lies in the market and what he can plant to make a profit.
Fronteras Desk is a collaborative of public media entities in Arizona, California, Nevada, New Mexico and Texas including Arizona Public Media.