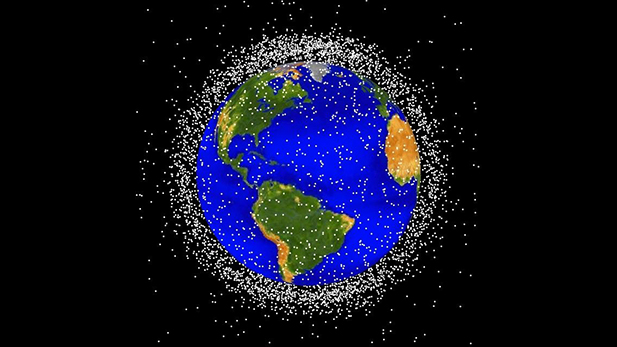 Computer generated image of objects in Earth orbit. Approximately 95 percent of the objects in this illustration are orbital debris (i.e., not functional satellites).

NASA
Listen:
Millions of objects are floating around the Earth in space, from flakes of paint to rocket bodies several meters wide that pose a danger to working spacecraft.
The University of Arizona will take on the task of identifying, tracking and predicting the debris' movements.
A piece of space junk the size of a grapefruit traveling at six kilometers per second can create 100,000 to 200,000 pieces of debris if it hits even a spacecraft the size of a large suitcase. That's the situation facing military, government and commercial space organizations.
Experts from those fields met at UA this week to begin working out how to manage space debris. Participants said rules of the road rather than international laws might work best.
Moriba Jah joined the university in January to direct a field called space object behavioral sciences. It's part of the UA's Defense and Security Research Institute.
"Not everybody accepts that there is a problem with debris in space, and so one of the things we are doing here at the University of Arizona is to bring together a pool of talented scientists and engineers so that we can fully understand and quantify what that problem is," Jah said.
Susan Lederer is the optical lead with NASA's orbital debris program office at the Johnson Space Center.
"Our background for our office is to try to make sure that we understand the population of debris with the goal of making sure that space stays safe for all of those assets that are out there that are collecting useful information and useful data," Lederer said.
Because of cost and risk, NASA or the military cannot fly into space and blow up or grab onto the debris. The 1967 Outer Space Treaty makes a country that launches an object into space its owner for perpetuity.
The Arizona Science Desk is a collaboration of public broadcasting entities in the state, including Arizona Public Media.