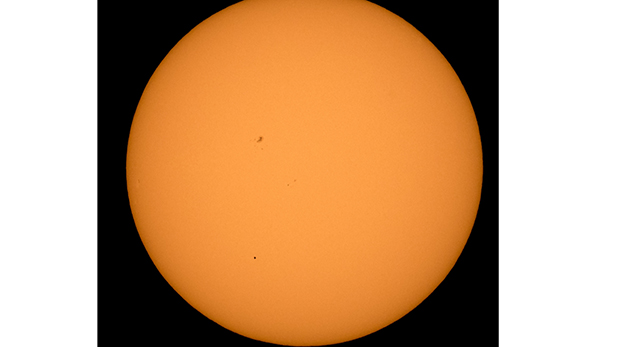 The planet Mercury is seen in silhouette, lower third of image, as it transits across the face of the sun Monday, May 9, 2016, as viewed from Boyertown, Pennsylvania. Mercury passes between Earth and the sun only about 13 times a century, with the previous transit taking place in 2006.

NASA/Bill Ingalls
Listen:
Astronomy students at Cienega High School in Vail will be among the citizen scientists helping to document a total solar eclipse in 2017.
They got hands-on training using the equipment and collecting data during Mercury's transit of the sun Monday morning.
Four telescopes set up in the Cienega courtyard were pointed toward the sun as students arrived for their classes. Some wandered over to see what was going on in the sky.
"Cool" was the most uttered word after the students learned the little black dot visible against the red orb was the planet Mercury.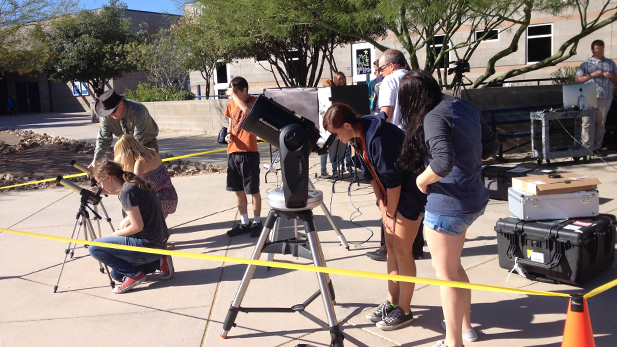 Students at Cienega High School in Vail use telescopes to observe Mercury passing between the Sun and Earth during the May 9, 2016, transit event.

AZPM/Sara Hammond
The August 2017 solar eclipse will be total across a swath of the United States, from Oregon to South Carolina. The Tucson-based National Solar Observatory is organizing the volunteer observing effort and brought viewing and recording equipment to the Cienega campus.
Cienega physics and astronomy teacher Jack Erickson's class will be among 60 groups or individuals who will take part in researching the sun's plasma along the path of the eclipse. The students, faculty and chaperones will travel to a location in Nebraska to provide data.
"This is a great way to do real research with high school students. Not a science fair project that when you are done, you save it in the garage," Erickson said.
Having observers across the country to record two and a half minutes of totality at each location will provide 90 minutes of data. The National Solar Observatory named the effort the Citizen Continental-America Telescopic Eclipse Experiment.
"We're using this opportunity to get some of the high school students here introduced to our eclipse telescope," said Matt Penn, an associate astronomer with the observatory. "We have a little amateur astronomy telescope with a good digital imager on it which we hope to use for the August 21, 2017 eclipse."
All of the volunteer observers for the solar eclipse will receive telescopes donated to the effort that they'll be encouraged to keep using for future observing, Penn said
The Arizona Science Desk is a collaboration of public broadcasting entities in the state, including Arizona Public Media.