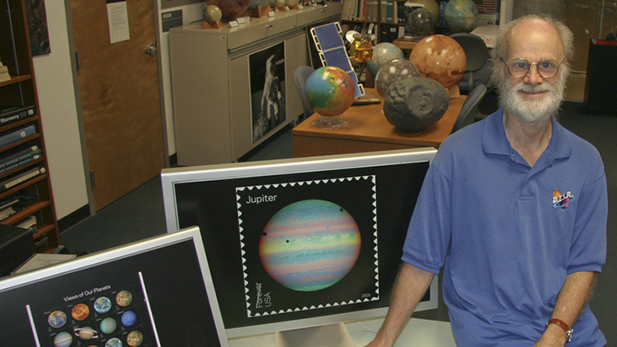 UA planetary scientist Erich Karkoschka's images of Jupiter and Uranus are featured on US postage stamps issued May 31, 2016.

Maria Schuchardt/UA LPL
Listen:
VIEW LARGER In 2003, the Hubble Space Telescope's advanced camera for surveys obtained a false- color image of Uranus. The true color of the planet has been described as a dull blue or blue-green.

NASA/ESA/Erich Karkoschka
Images taken by a University of Arizona scientist soon will be on U.S. mail. They're part of a set of planetary postage stamps being issued Tuesday.
The stamp set is called Views of Our Planets, with a stamp depicting each of the eight planets in our solar system. The U.S. Postal Service selected the images and worked with NASA to learn more about each one.
UA Lunar and Planetary Lab senior scientist Erich Karkoschka used the Hubble Space Telescope to snap images of Uranus in 2003. Using three filters on the satellite, he captured colorful and revealing features of the planet's atmosphere, such as three bright red glowing clouds in the planet's northern atmosphere.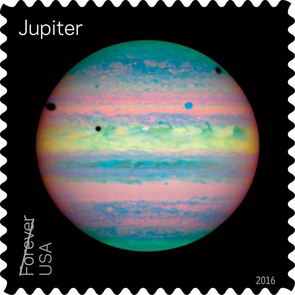 VIEW LARGER The Hubble Space Telescope in 2004 captured this rare alignment of Jupiter and three of its moons -- Io, Ganymede and Callisto -- which cast their shadows on the earth-facing side of the planet to form a triple eclipse.

NASA/ESA/Erich Karkoschka
In 2004, he asked for time on the same instrument to attempt to obtain images of Jupiter with three of its moons in rare alignment for his research. Karkoschka said he was given one orbit of the Hubble telescope around Earth – about 40 minutes – to make his Jupiter observations. He said the phenomenon he viewed hadn't happened for 60 years when he made his proposal to NASA.
Karkoschka said when he was doing his observing, he never dreamed his images would land on postage stamps. He is the only planetary scientist to bag two of the stamps.
The Arizona Science Desk is a collaboration of public broadcasting entities in the state, including Arizona Public Media.