AZPM 2006, 2010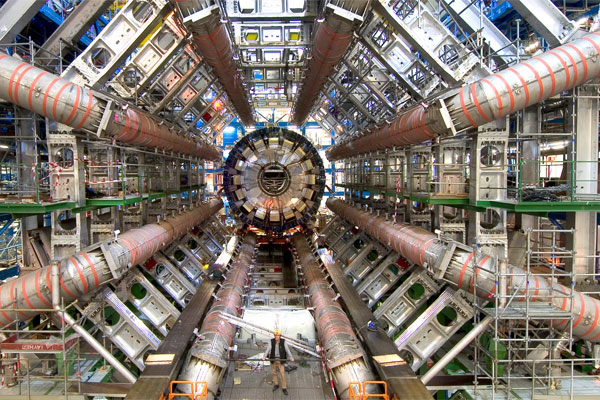 The Large Hadron Collider or (LHC) was built by the European Organization for Nuclear Research (CERN) to answer the most fundamental questions of physics and to gain a better understanding of the birth of our Universe. LHC is the world's largest and highest energy producing particle accelerator where opposing beams of atomic particles will collide at energies equivalent to the explosion of the "Big Bang" billions of years ago.
University of Arizona physicist Dr. Elliot Cheu is also a LHC team member, he says, "LHC is the largest man made experiment ever created." It took fifteen years to build at a cost of more than ten billion dollars. LHC is a 17 mile tunnel located more than 500 feet beneath the border of France and Switzerland. To get an idea of how big it is Dr. Cheu says, "it's roughly the same size as the perimeter of the City of Tucson."
Dr. Cheu says, "not only is LHC a huge physics experiment, but a social one too." The atom smasher is a collaboration of more than 10,000 scientists and engineers from over 100 countries.
Recently it was announced by LHC's director that they will run the gigantic machine at half-maximum power for several months to address design issues. Dr. Cheu says he's only, "mildly disappointed, as there still is so much to be discovered even if LHC is operating at only half its potential."